Glasgow face tough task after loss, says Gregor Townsend

By Keir Murray
BBC Sport Scotland
Last updated on .From the section Rugby Union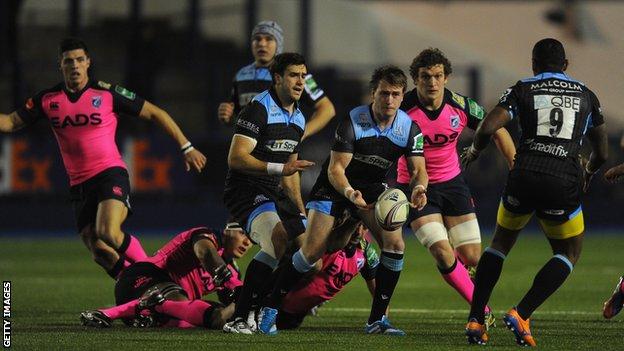 Head coach Gregor Townsend concedes it will be "very difficult" for Glasgow to progress in the Heineken Cup following defeat at Cardiff Blues.
"We'll need to win all three [remaining games] to have a chance," Townsend told BBC Scotland.
"The focus now is on producing a better performance at home next week."
Glasgow, who have never reached the quarter-finals in European competition, host the Blues before a trip to Exeter in January, while their final group game is at home to cup holders Toulon.
Reflecting on the loss in Wales, Townsend was impressed by the home side but frustrated by wayward elements of the Warriors' play.
"The Heineken Cup is such a special tournament and you want to give it your all but we were beaten by the better team," he said.
"Cardiff played really well and capitalised on our mistakes.
"We have to look at where we went wrong with the referee because we gave away too many penalties and that gave them an edge over us.
"There was tremendous effort and some good individual displays but what we need to make sure of is a team performance at a high level and there were connections that just weren't there.
"There are inaccuracies we have to work on and that starts with us as coaches."
Glasgow captain Al Kellock was making his 50th appearance in the Heineken Cup but unable to celebrate the milestone.
"It's disappointing because I thought before the game, and during it, that we were in with a chance," said the Scotland lock.
"We were right back in the game with that score before half-time. The momentum was there but we lacked that bit of composure and cutting edge. It's not miles away but it needs to be found pretty quickly.
"Our attack was good at times but we maybe tried to force it.
"We've got a dangerous set of backs and we need to be a bit smarter about where we attack.
"It's a pressure game. You build it and build it and we relieved it with mistakes. That said, Cardiff's execution was very good.
"We're never lacking effort just sometimes lacking in direction.
"Throughout the game, the pace was international speed. A lot of the time you'll get that for 40 or 60 minutes at club level and then it drops off.
"We'll need to fix a few things and get back to winning ways next week."