Gwyn Jones claims WRU 'happy to see regions become weaker'
Last updated on .From the section Rugby Union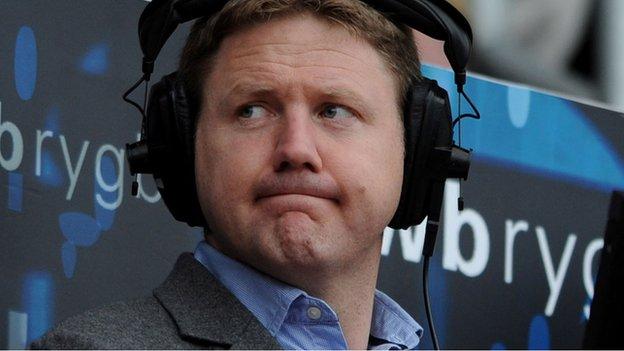 Former Wales captain Gwyn Jones claims the Welsh Rugby Union is unconcerned about the exodus of top players to France and England.
Jones says the WRU will step in once the four Welsh regions hit "rock bottom" to install a new structure.
"I think that the union are quite happy to see the regions become weaker or more players to leave," he said.
WRU chief executive Roger Lewis has said the union is committed to the supporting the regions.
Lewis was not responding directly to Gwyn Jones's comments, but told BBC Wales: "We sincerely hope that our professional regional organisations are able to retain their best players in Wales."
Jones' comments come against the background of more top Welsh players leaving the four Welsh regions - Scarlets, Ospreys, Cardiff Blues and Newport Gwent Dragons - to play in France or England.
Wales and Lion hooker Richard Hibbard is expected to join Gloucester in the summer of 2014 with one year still to run on his contract with the Ospreys.
Hibbard will join Wales lock Ian Evans (Toulon) and Scarlets centre Jonathan Davies (Clermont Auvergne) and a host of Test stars in exile next season.
Jones, who was forced to retire as a player after suffering a spinal injury while playing for Cardiff in 1997, sat on a working party which examined the structure of Welsh rugby in the early 2000s.
He believes the future is bleak for the regions in the face of increased competition for players from France and England.
"Gradually over years it's going to be painful," he added.
"I think that it will be a death of a thousand cuts for some of these regions until they hit rock bottom and the union step in, take over complete control of all levels of Welsh rugby and set up their own structures in every region.
"It will be sad and hard work but until we get there quite painful I expect."
Lewis outlined the WRU's official stance over their attitude to the regions' finances.
"That's a topic [the regions's financial concerns] that I've always said in recent times needs to be discussed behind closed doors with the Welsh Rugby Union and the four regions," said Lewis.
"I think it would be totally inappropriate to be discussing their business publicly at this particular stage.
"But the Welsh Rugby Union will always support the ambition of people who are dedicated to the best interests of Welsh rugby in Wales.