Cornish Pirates coach Ian Davies frustrated by 27-27 draw
Last updated on .From the section English Rugby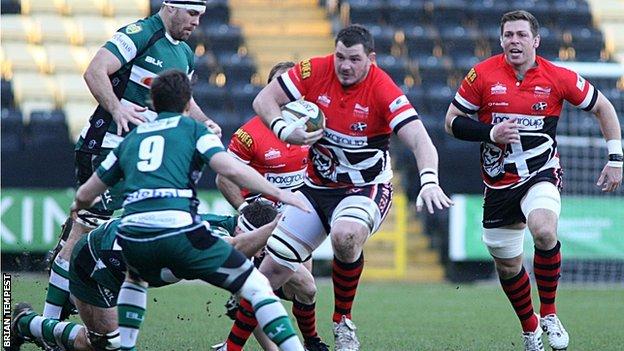 Cornish Pirates head coach Ian Davies says his players need to start converting tight games into wins if they are to enjoy a successful season.
"It's a game we should have won and it is disappointing," Davies told BBC Radio Cornwall.
"We've got to start putting these games to bed or else we're going to feel like this a few more times."
The Pirates are sitting in sixth place in a congested Championship table, but Davies said his side could be in even better shape if they had managed to close out winning positions.
"It's a really tough league, with Jersey and this game - both times we could have come away with bonus-point wins away from home," he said. "But we've came away with three points and not 10.
"We've got to learn how to run down the clock and win games but there was a stage in the second half when I thought we were going to be on the end of a 30-point defeat."
Davies said there were plenty of positives to take from the game, but the Welshman was angry about his team's consistent failings in the line-out.
"We had a few choice words at half-time and it didn't really improve in the second half," he said.
"It was bordering on embarrassing and it's something we've got to look at and it was nothing to do with Nottingham, they weren't doing anything to stop us. It was just very poor execution from us.
"To be honest, I don't think we even got to the office, let alone had a bad day at it."