Rugby World Cup 2015: England kick-off times 'must be looked at'
Last updated on .From the section Rugby Union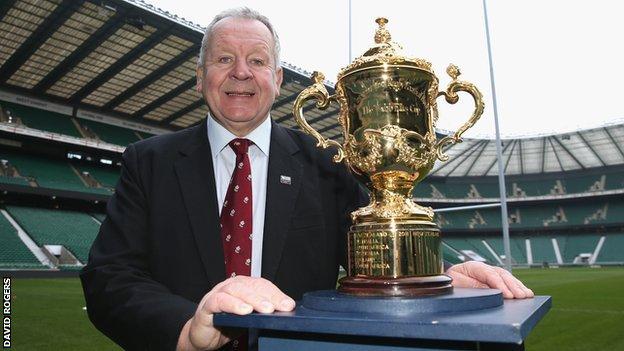 Evening kick-offs for England's 2015 World Cup pool matches could prevent some supporters from attending, says Shadow Sports Minister Clive Efford.
All four of England's Pool A matches, three of which will be played at Twickenham, will kick off at 20:00 BST.
"I have sympathy with fans who object to 8pm kick-offs at Twickenham and they should be listened to," said Efford.
"I would urge organisers to look at the kick-off times because not every fan will come from London."
Rugby Football Union chairman Bill Beaumont defended England's kick-off times for the tournament, which starts in September 2015.
The former England captain said he was "very confident the true England supporter will want to come because they want to be part of a World Cup".
A total of 2.3 million tickets will go on sale for the tournament, but Efford believes people in the south east may be 'excluded' from watching England by the scheduling.
"I hope it's not too late to look at the times again because we're still two years away from the World Cup," added Efford, MP for Eltham since 1997.
"Clearly people will find it difficult to get away. Not every fan will come from London, they'll come from much farther afield, and you don't want to exclude those people because of the late kick-off times.
"If you've been to Twickenham and had to queue to get the train, you know what it's like getting away."
The last of England's pool matches will be played at Manchester City's Etihad Stadium.
Organisers England 2015 promised last year to make the tournament "affordable and accessible to everyone".
And Efford is concerned the government has not imposed legislation on the resale of match tickets.
"If we don't have this protection, organised gangs of touts with all the technology at their disposal will hoover up as many tickets as they can," said Efford, who has tabled a motion in parliament on the issue.
"By doing that they'll generate a shortage, create higher demand and sell them at higher prices. Genuine fans will be exploited.
"England 2015 is dismayed that the Government has refused to pass the legislation. It makes no sense."