International Rugby Board keen to tackle fixture congestion
Last updated on .From the section Rugby Union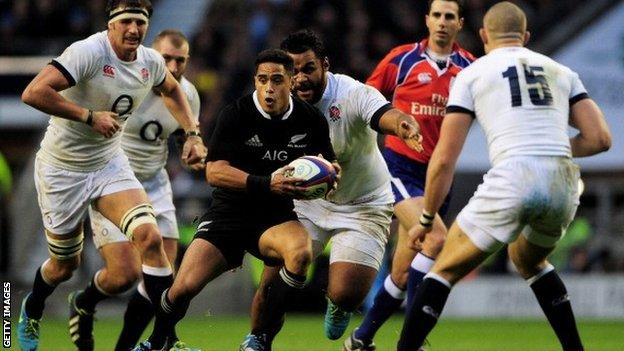 The International Rugby Board hopes to avoid a repeat of the scenario that will see England face New Zealand with a weakened team next summer.
The first of three Tests between the sides is on 7 June - seven days after the Premiership final at Twickenham.
English players involved in the final will not travel to New Zealand until 1 June and will arrive too late to be considered for selection.
It means England will not field their first XV until the second Test.
IRB chief executive Brett Gosper said: "It's unfortunate, but it's the product of a crowded season.
"These calendars were decided some time ago and everyone was involved in that. I believe there was a little bit of confusion on behalf of some of the unions as to what the beginning of the window was in June.
"It's unfortunate that the two unions couldn't find a solution to the problem and it does look like England won't take a full-strength side.
"We tried to move it but there were broadcast and planning elements in place that meant we couldn't.
"We're looking at the windows at the moment to see if we can find a better balanced calendar. It's a very crowded season."
Gosper also said he was optimistic that the dispute over European club rugby would be resolved.
All Six Nations unions, apart from England, have announced they are to set up a 20-team competition to succeed the Heineken Cup, a development which could isolate the Premiership clubs.
"We're optimistic there will be a strong European competition and everyone will find a common ground," he said.
"It's certainly moved towards agreement on a number of issues and we hope it continues in that way. We hope all nations are represented."