Cardiff Blues: Bradley Davies talks 'not straightforward'
Last updated on .From the section Rugby Union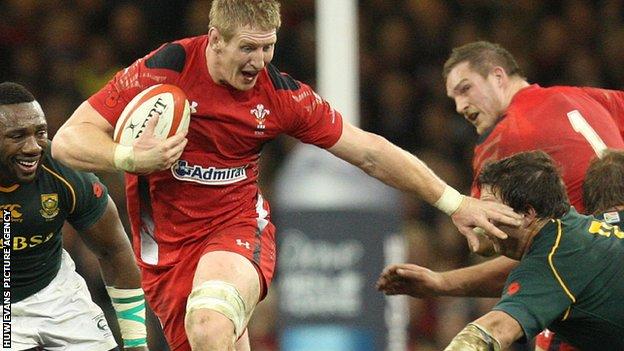 Director of rugby Phil Davies says Cardiff Blues are working to keep Bradley Davies but warns negotiations are "not a straightforward process".
Wales lock Davies, out of contract at the end of this season, has been linked with a move to Wasps.
Blues are also in talks with Sam Warburton and Leigh Halfpenny, with Phil Davies keen for all three to stay.
"I'm hopeful they all will stay - not just Brad - all of them who've been spoken about in recent times," he said.
Wales and British and Irish Lions full-back Halfpenny has been linked with Toulon, while Wales captain Warburton's agent has claimed doubts over the future of the Heineken Cup have stalled talks about the player's future.
Like Bradley Davies, Warburton and Halfpenny's contracts expire in May 2014.
Phil Davies admits it is a complicated situation.
"Our player recruitment and retention is an interesting process, there are a lot of people involved in it. We are looking at a lot of players," he said.
"Players have been offered opportunities with us and elsewhere I'm sure.
"Bradley's among those. They are players we want to keep in the club, Bradley's an outstanding individual, he brings a lot to the team and the squad, as do a lot of the other players who are out of contract.
"There's an amazing amount of work going on. Hopefully it will all come to a conclusion and fruition in the way that we want it tos.
"It's not a straight-forward process, but there is a process going on."
Phil Davies acknowledges that the Blues would benefit from a period of stability after several years of major changes in personnel.
"I'm very hopeful that they all stay because we've had enough change here - we've lost 39 players in the last two-and-a-half to three years and we've brought in more than 42 players," he added.
"That naturally happens but there's been a massive turnaround in the standard of the players that have gone out and come in."