Breaking the code: how rugby league and rugby union compare
Last updated on .From the section Sport610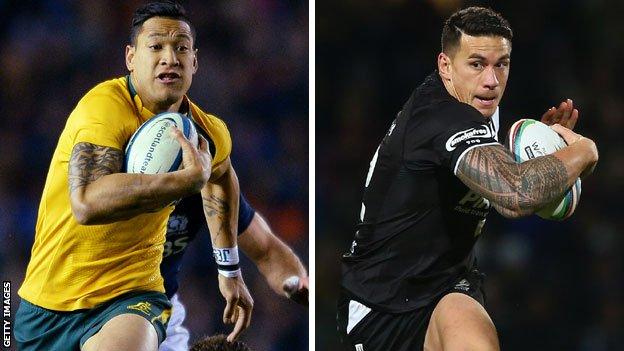 Last weekend saw two spectacular rugby matches, both won by New Zealand with last-gasp tries.
This Saturday sees the culmination of five weeks of action as defending champions New Zealand face favourites Australia in the Rugby League World Cup final in Manchester, while Wales v Australia will also bring five weekends of Test rugby in the union code to a conclusion.
The weekend's games will feature players who have appeared in both the 13-man and 15-man codes. In the Kiwi team on Saturday will be Sonny Bill Williams, the International Rugby League Federation's player of the year, who won a union World Cup winner's medal with the All Blacks in 2011, while former Australia league star Israel Folau will be in action for Australia's union side in Cardiff.
BBC Sport has asked four rugby experts to discuss the differences and similarities between the two codes, the different challenges they present and skills they require, and the evolution of both games.
Our panel comprises Jonathan Davies (37 Wales union caps, 10 caps for Great Britain and nine for Wales in league), Jeremy Guscott (65 union caps for England and eight for the Lions) Jamie Peacock (26 caps for Great Britain and 21 for England in league, and captained both), and Tulsen Tollett (former NRL and Super League rugby league star, and Premiership rugby union player).
How easy is it to switch between codes?
Jeremy Guscott: Code-switching used to be one-way traffic but since union went professional it seems like more top players have switched from league to union.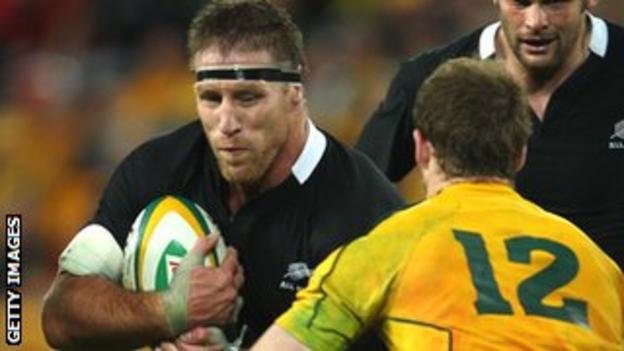 Sonny Bill Williams is pretty unique in his ability to swap between codes as often as he has - his physique, athleticism and skill-set mean he can do so with ease, but there are lots of players, especially the backs, in either game that would do well in both codes.
You could see players like England rugby league star Sam Burgess making the jump across if he needed another challenge, but the challenge of the NRL is plenty for now I think.
I'm sure the likes of Lions backs George North, Jonathan Davies and Manu Tuilagi, and many other players with that physique and pace, would do well in league but just like any other sportsperson doing well in their chosen field why would they change?
Tulsen Tollett: Fewer league forwards tend to switch because league is a simpler game to play: there are no line-outs, rucks, mauls and so on, and the technicalities at these areas are something that take time and understanding to master.
Does league or union require greater fitness?
Jonathan Davies: I enjoyed fitness and worked really hard at it, even as an amateur, and especially on my speed. While union is quicker at times, the ball is in play more in league, so it is less stop-and-start, and with the constant running up and back in defence I found my fitness levels were tested more.
TT: I found that my aerobic fitness decreased when moving to union after a season in league as I'd been up and back defending in league - you're almost doing shuttle runs.
In union it didn't require that type of movement as you only needed to be behind the feet of the back man at the ruck.
Which code has better ball-handling?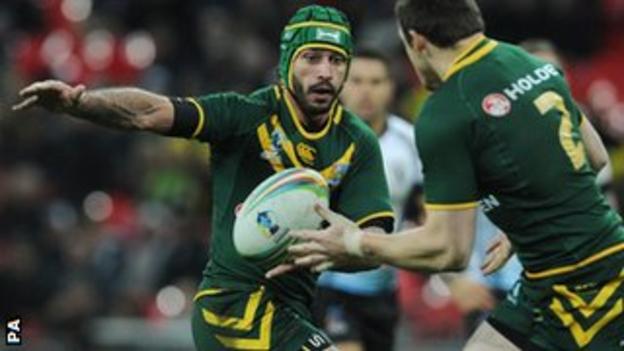 JD: The handling skills in league are higher generally. If you look at the top sides like Australia and New Zealand, if they create an overlap, the chances are they will score. They don't throw miss-passes for the sake of it and their short passing and angles of running are better.
JG: The passing skills in all positions in league are far superior to those in union.
The best sides in league are very clinical - when the opportunity arises the skills allow for good accuracy and execution. Union could definitely learn from having those skill sets.
I would say also league has looked at the off-load game of union and used that more than they used to.
When Henry Paul and Jason Robinson [former Wigan rugby league players turned England union internationals] pitched up at Bath many years ago, their broken-field running and attacking was like nothing I'd ever seen before in union.
Which code is better at kicking?
Jamie Peacock: Union's kicking game is exceptional and a vital part of that game. League can learn from that, especially the distance kicking and, given how important it is when you get three points for a penalty, the place kicking.
JG: Both codes use kicking as a way of gaining territory by kicking deep. Union has more contested kicks, where two or more players jump for the ball, whereas league would probably only kick to contest possession within 25 yards of the opposition try line.
JD: I would say the standard of goal-kicking is far higher in union than league. The percentages are higher in league, but if you don't think you can kick it, you tend to go for touch, whereas in union you will have a go at it. It is a different mindset. The kicking skills are certainly higher in union because they are utilised more. In league they keep more ball in hand.
What about differences in tackling?
TT: In union, body position becomes important, not just carrying the ball but also defending, as you are trying to really stop the play dead and either hold the player up to force a put-in for yourself at the scrum, or be quick enough to make a tackle and effect a turnover. That means that trying to not be on the ground in an offside position after making a tackle is key.
In league, if you tackle someone low you are not worrying about others coming through to ruck and you being caught in a compromising position - getting rucked over or penalised for being on the wrong side.
Is there more onus on scoring tries in league?
TT: The points system in union is a shame in a way as it means people get more excited about a drop-goal or a penalty when the game is about entertainment and scoring tries from a fan's point of view.
However, I only have a problem when a team may score two or three tries to nil but still lose through having five or six penalty goals kicked against them. But at the end of the day that reflects poorly on the discipline of the defensive team.
Have the defensive systems converged?
JG: The defensive lines are similar because union has made big strides in following league's lead in this area. Union never really worked on defence as intensely as league did in the amateur era but that has all changed.
TT: There is one intricacy that is harder to master for a back in union - the sliding defence moves up and out at a quicker speed than in league because there is less space between yourself and the attacker in the 15-man code. This is an area that can cause a few problems when it comes to transferring defensive skills.
Are the games becoming too similar?
JG: The set-pieces are still the biggest difference, with no line-outs in league and the scrum rarely contested in the 13-man code. In union, the scrum is still a big part of the game, both physically and mentally.
While both are a means of restarting the game, in union if you get the dominance at the scrum you have a big advantage, but in league it's almost another play-the-ball - a way for possession to change hands.
The breakdown is another big difference because so much happens after the tackle in union whereas in league it doesn't exist because of the play-the-ball.
So which one's better then?
JD: Union is different now to when I was playing. Defence wasn't as confrontational and aggressive as it is now. I went from an amateur sport in union to a professional one in league, so I found it tougher. Very rarely did you have to tackle as a fly-half in union in those days.

I really enjoyed playing both games, but once I had played league it was better for me because it suited my game. Playing union for Wales in those days against the top sides like England, France, Australia and New Zealand, we would often get dominated up front, so as a fly-half I could be starved of possession.
In league I was getting more ball and there are four fewer men on the field so there is more space, and that suited me.
TT: I enjoyed playing both for different reasons. League is a more free-flowing contest, which becomes a battle of attrition when the match is tight.
Union becomes more of a thinking game, tactically: where do we kick the ball? On a turnover, is there space at the back or should we control the ball? Is there space out wide?
JG: You won't see many better games of rugby in either code than the State of Origin series played every year in Australia between Queensland and New South Wales. It's totally compelling, even for the neutral.
I enjoyed the England matches against Australia and New Zealand in this year's World Cup and look forward to watching the final this Saturday.
You can't help but enjoy big collisions and attacking brilliance. League is on the whole more dynamic because of the rules; union has its moments like that but it's a slower build-up to the crescendo.
Jonathan Davies told me I would have enjoyed rugby league. Although I had good offers it was never really an option for me while I was playing union for a very successful club side and national team.
Both codes have some truly special players that we all enjoy watching play their chosen sport.
Jonathan Davies, Jamie Peacock and Tulsen Tollett will all be part of the BBC's coverage of the Rugby League World Cup final, Australia v New Zealand, on Saturday, starting at 1345 GMT on BBC One and online.
Jeremy Guscott will be part of the BBC's coverage of Wales v Australia on Saturday, starting at 1630 GMT on BBC Two and online.