Wales v Australia: Warren Gatland says Wales 'confident' of victory
Last updated on .From the section Rugby Union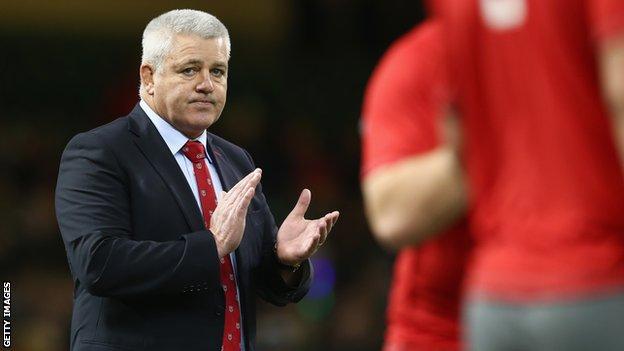 Coach Warren Gatland is confident Wales can beat Australia on Saturday.
But even if his side end an eight-match losing streak against the Wallabies, Gatland says it will be irrelevant when the teams meet at the 2015 World Cup.
Indeed the New Zealander believes last weekend's 17-7 victory over Tonga will count for more in two years' time.
"Last week was probably more important almost than this week for the World Cup in terms of being able to develop a bit of experience and depth," he said.
Wales will face Australia, tournament hosts England, the winners of the Oceania 1 play-off between Fiji and Cook Islands, plus a repechage play-off winner in the pool stage of the World Cup.
And looking ahead to Saturday's game at the Millennium Stadium, Gatland said: "I don't think it's relevant [to the World Cup] at all.
"There's a lot of water to pass under the bridge before that."
Gatland said the "reasonable job" Scotland did in their should mean Wales "go into this weekend with a lot of confidence".
And he added his players are not dwelling on their eight successive defeats against Australia, or the success his Welsh-packed 2013 British and Irish Lions enjoyed against the Wallabies.
Gatland also highlighted the Wallabies' changes, with star backs Berrick Barnes and Digby Ioane injured and James O'Connor dropped.
"I think we haven't spoken about Australia because we're confident," he said.
"There's a lot of confidence in the side in terms of their own ability. I think with Australia, there's a lot of key players for them who've been regulars who aren't playing on Saturday.
"So [they're] quite different to what we've faced in the past."
The Wales boss says their 2013 autumn focus has changed from the recent past and they are not treating the period as part of their Six Nations build-up.
"People have got to be aware that, probably in the past, we've used the autumn a little bit differently," said Gatland.
"We've used it as preparation for the Six Nations because that's our bread and butter. That's a tournament. Now these are friendlies and we wanted to achieve in the Six Nations.
"Our focus has changed a little bit for this autumn. It's about when we're at full strength, we think we've got a pretty reasonable team.
"So we've targeted this autumn wanting to do better than we have in the past."