Jeremy Guscott Q&A: "Ireland had game won, but fear gripped them"

By Jeremy Guscott
Rugby union analyst, BBC Sport
Last updated on .From the section Rugby Union424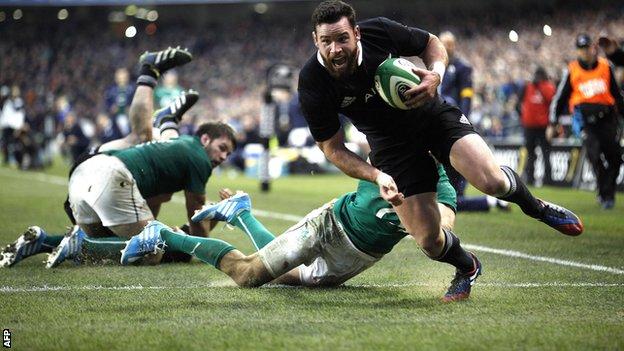 Among the topics Jerry discusses this week are:
- Scotland pushing Australia but still losing in Edinburgh
- Who should start at centre for England in the Six Nations
- The most threatening back in world rugby
- Whether England should include teenage Bath star Anthony Watson
Hi Jeremy, how highly do you rate the Ireland v New Zealand match? For me it was one of the best, if not the best match, that I've seen in the more than 40 years that I have been following rugby. I still feel gutted after that try in the last minute, and I am not even an Irish supporter. Sas
Hi Sas, the match was totally absorbing, the intention and commitment to play from both teams was a joy to watch. It has to be right up there for most people as one of the best games they've seen in recent times. I couldn't have coped with any more drama, I was close to self-combustion as it was!
Hi Jerry, how unlucky were Ireland against the ABs? Denis
Hi Denis, very unlucky would be the simple answer. The tougher one would be Ireland shouldn't have been unlucky, they should have won. Sport as we know can be both kind and cruel. Ireland had that game won, but in the position to win, the fear of losing gripped the team. New Zealand scored 17 unanswered points in the second half.
Jerry, regardless of the result, Ireland showed on Sunday that they are close to untouchable when at their best. This is a trend that we saw at the start of the year when we played Wales off the park in Cardiff, yet Wales went on to win the Six Nations. What exactly do you put Ireland's inconsistency down to, considering the consistent level of performance of the Irish players at club level? BRFC1995
Hi, I don't believe the Irish players as a group have all, at the same time, believed they are good enough most of the time. I don't believe the squad have been 100% behind the different coaches; the rivalries and differences between the provincial teams have somehow got in the way.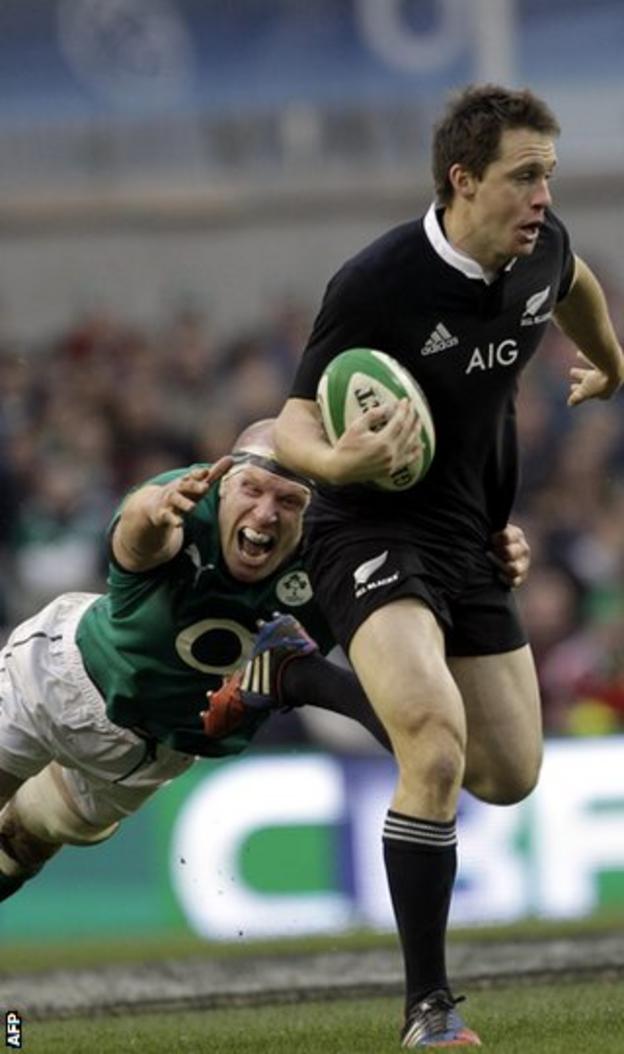 Hi Jerry, New Zealand's Julian Savea, France's Wesley Fofana and Australia's Israel Folau have all looked very threatening this season but who would you say is the most threatening back playing at the moment? Alex D
Hi Alex, whilst the three you mention, and the likes of George North, Jonathan Davies, Bryan Habana, Willie Le Roux and Jean De Villiers have done well, one player stands out further for me and that's New Zealand's Ben Smith. It has seemed to me that every time he's got the ball in his hands, he has beaten the first player and is then looking for support or exploiting the space he's created for himself or others. He's played on the wing and in the centre recently and looked world class in both. His total skill-set would be the envy of any back in the world; he has it all.
Hi Jeremy, with both Manu Tuilagi and Joel Tomkins likely to miss the beginning of the Six Nations, what pairing would you play in the centres for England? Davies
Hi Davies, I really believe Luther Burrell deserves his opportunity, not necessarily on stats but on his ability to take defenders on, make a line-break or get to the gain line. With his power running, England should be able to get the important quick ball you need to attack with. Henry Trinder was going to start in the autumn Tests but got injured. I'd like to see him given another opportunity as it would be good to see more pace injected into the England backline.
After their narrow loss to Australia, where do Scotland go from here? After watching all the home nations' autumn internationals, they look like they are going to be in an arm wrestle [in the Six Nations] with the Italians as per usual. Would you agree? Mainsy
Hi Mainsy, Scotland need to settle on a fly-half and stick with him, they can't keep chopping and changing that very important position and expect any consistency in team performance. Each of their fly-halves - Ruaridh Jackson, Duncan Weir and Tom Heathcote - all have different personalities and skill-sets which affect the way they play and in turn the way the team plays because a 10 directs the team. As well as sorting out the fly-half, Scotland have to score more tries; their aim must be to get across the line more.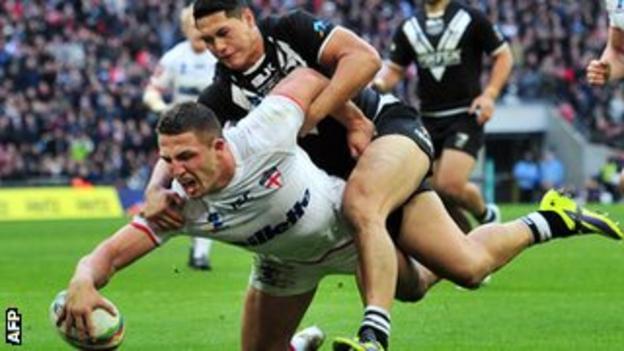 Hi Jerry, there's still two years to go until the 2015 World Cup - is it too late to poach the Burgess brothers from rugby league? I'd love to see one of them as a centre partner to Tuilagi. Shrek
Hi Shrek, it's a nice thought but not likely to happen in the time-frame you mention unless the talks are already happening with any of the brothers. From what I've seen, I think Sam Burgess would make a brilliant inside centre, very similar to Sonny Bill Williams. To have that kind of fire-power available in the England backs would be a tremendous boost. Sam is a superstar of rugby league, he would be a very high earner playing in a fantastic league in Australia, he must be living the dream and the family have made Australia home. He would have to have another dream to want to play union.
In England's rugby league team, even big forwards, like Sam Burgess, are adept at passing and off-loading. Why are England's rugby union backs, numbers 11 to 14, so hopelessly inept? That's not a rhetorical question. There must be a reason. Frank
Hi Frank, very simply the skill of passing is not practised enough by those players and others. Off-loading is risky and most players, not all, will not take that risk, it's not part of a game-plan. It takes a certain type of player to off-load with the right mind-set. The lack of quality coaching at an early age would also be a contributing factor to players not having good enough passing skills.
Hallam Amos was included in the Wales team last weekend. The only comparable player I can think of in recent times who has made a national team so young is James O'Connor for Australia. Both demonstrate that if you are good enough, it doesn't matter how old you are. Should England do the same with Anthony Watson over Ashton? Or as Englishmen, are we condemned to play the safe bet. Bigleftfend
Hi Bigleftfend, sometimes circumstances intervene that allows a player to get their chance to play an international; it can be injuries, development, experimentation etc. Personally I would always pick most of my best players as often as possible and from time to time, outside injuries, introduce a gifted player surrounded by the best. I'm not convinced the current England could handle a player like Anthony Watson, he's too pure. You get the feeling his natural rugby instinct would be suppressed in the current playing environment.
Would you agree that England and Ireland have shown the world that New Zealand are not invincible? By hitting the line at pace, being very aggressive at the breakdown and having quick line-speed in defence they can be stopped like anyone. Both England and Ireland ran out of steam towards the end of the games, but if a side can maintain the intensity for 80+ minutes, they are ripe for the picking. Rugbyman
Hi Rugbyman, I agree, if only they could play like that every time they played. That's what sets the Kiwis apart, they can!