Ian Gough: London Irish forward ready for Premiership bow
Last updated on .From the section Rugby Union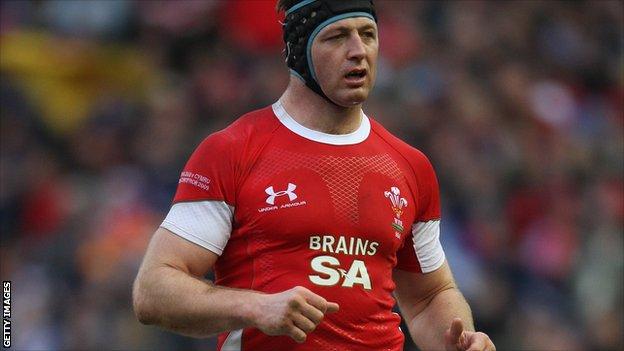 Former Wales Grand Slam winner Ian Gough says he is excited about his move to London Irish for what he believes could be his last season playing top-flight professional rugby.
It is his first foray into rugby outside of Wales and he is relishing the chance to play in the Premiership.
"After leaving the Ospreys I felt I had a season left," Gough told BBC Sport.
"This offer came about and having played all my rugby in Wales, and having stayed loyal to club and regional rugby in Wales, the opportunity to come and play in the Premiership is pretty exciting.
"It's a league I've never played in, it poses different challenges and at 36 it's nice to have a strut about in a different competition."
Gough, who made 119 Ospreys appearances after signing in the summer of 2007, represented his country on 64 occasions and won Grand Slams in 2005 and 2008.
Prior to his move to the Ospreys, he made 92 appearances for the Newport Gwent Dragons and has clocked up a total of 211 regional rugby appearances since 2003.
And, despite leaving the Ospreys by mutual consent in the summer, Gough never lost faith he would remain in rugby, revealing he even came close to returning to the Dragons.
"It's been a bit of a strange one over the past few months since leaving the Ospreys - in my head I always wanted to carry on playing," he said.
"The boys call me tight, and I thought 'I've got a nice pair of boots and I'm not going to stop playing until they are worn out'.
"I've kept myself fit and remained positive and it is just another chapter in my story."
With Irish's injury concerns over George Skivington and Kieran Low, Gough could make his debut against Bath this weekend - something he insists he is ready to do.
And, although he is new to the Premiership, he says he already knows what to expect over the next eight months.
"The one thing you do get in this league is big, physical packs who try and grind you into the mill," he said. "We've got Bath this weekend, who I have come up against a few times and they are great to play against.
"You have the likes of Leicester, who like to test you physically and mentally, and every game is tough challenge. No game is a given and to get a win is tough.
"I'm good to go - the hard thing for me will be coming into a new environment. I was at the Ospreys for six years and have been in the Welsh environment all my career.
"So, to come into a new environment and learn moves and calls is up to me to get my homework done and learn how they play. I've got my boots ready and if I get the call all I need to do is lace them up and get out there."