Gavin Henson: Saracens offer Bath fans refund deal
Last updated on .From the section Rugby Union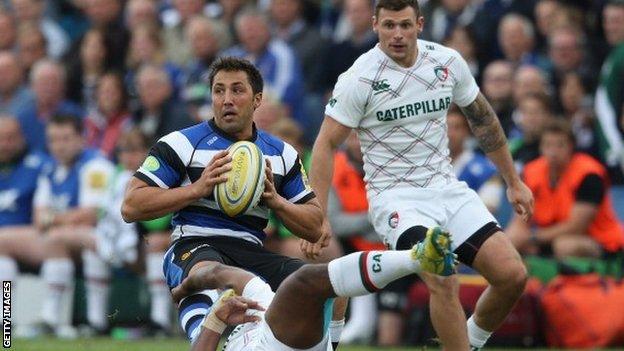 Saracens will give Bath fans a full refund on their tickets if centre Gavin Henson scores in Sunday's Premiership match between the two sides.
The London side top the Premiership and host third-placed Bath at Allianz Park.
Fans will need a Bath postcode as their home address to qualify for a refund.
"If Gavin Henson scores a point this Sunday we will give Bath fans their money back. It really is that simple," explained Clare Jackson of Saracens Supporters' Services.
The Welshman has yet to score in Bath's opening two league games, coming on as a first-half replacement in their season-opening 21-0 victory over Newcastle and starting in Saturday's 27-20 win against Leicester.
Saracens made a similar offer to Gloucester fans before last weekend's contest at Allianz Park.
Supporters with a Gloucestershire postcode who purchased tickets in advance could choose a result from which they might earn a refund.
Those who opted for a Saracens win received their money back after the hosts' 44-12 success.