Lion Sam Warburton backs calls for tougher European qualification
Last updated on .From the section Rugby Union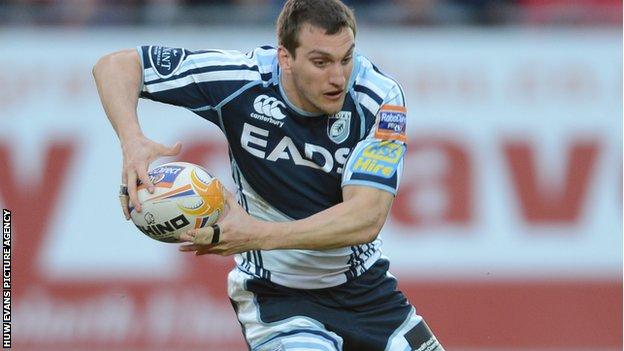 Victorious British and Irish Lions captain Sam Warburton has backed Anglo-French calls for changes to how Pro 12 clubs qualify for the Heineken Cup.
On Tuesday, the English and French clubs stated they would leave the tournament at the end of this season.
The clubs have plans for an Anglo-French cup and demanded only the top six sides in the Pro12 should qualify for Europe, regardless of nationality.
"I can understand from the English and French point of view," said Warburton.
"I do agree there should be a qualifying system from the Rabodirect.
"I don't think they should hand it out to each country, it should be the top six to qualify and it would make the Rabo more interesting.
"I can agree with the English and French perspective that there should be tougher qualification."
The English and French clubs gave notice last year of their intention to pull out of the two existing European competitions at the end of 2013-14.
They are unhappy with the differing ways teams qualify for the Heineken Cup and how proceeds are shared.
The English and French clubs argue their counterparts in the other four nations have an unfair advantage in Europe.
With the Pro12 having no relegation, teams can rest players for league matches to keep them fresh for Europe, while the two Scottish and two Italian clubs are guaranteed a Heineken Cup place.
The current qualification process from the Pro12 for the Heineken Cup means only Newport Gwent Dragons have failed to qualify for this season's tournament.
Wales captain Warburton hopes a peace deal can be brokered between all parties and expects to be playing in an European competition next season.
The Cardiff Blues flanker does believe, if there is no European competition, it will mean a greater focus being placed upon the Pro12.
"Hopefully, whatever happens, the Cardiff Blues will be playing in the top tier of European rugby next season," said Warburton.
"If that was the case, then at least the standard of the Rabo would be improved because there would have to be full teams.
"I have always said if all the top teams fielded their best sides in the Rabo, it would be a competitive and great league.
"So there are pros and cons and hopefully the Blues will remain in Europe somehow.
"I cannot really imagine it happening and I am sure something will be worked out - and that the regions will play European rugby and I hope that is the case."