Cornish Pirates coach Ian Davies set sights on long-term goal
By Phil Harlow
BBC South West Sport
Last updated on .From the section English Rugby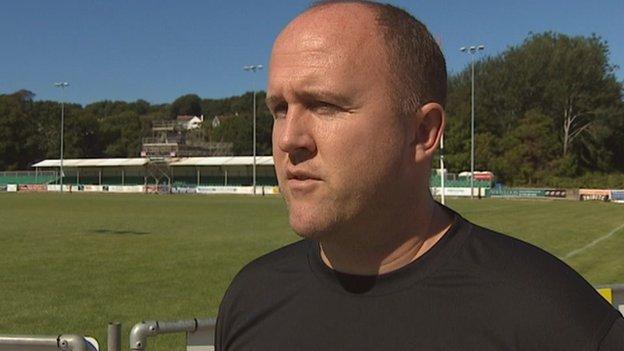 Cornish Pirates head coach Ian Davies says fans might have to accept a short-term dip in results as part of a long-term ambition to reach the Premiership.
The Pirates aim to be ready to reach the top flight in the 2015-16 season and have signed several young players.
"You hope there's some reality in terms of accepting younger players make mistakes, but supporters want results as well," he told BBC South West Sport.
"You never want to lose games but it is about development."
Davies, together with assistant coach Harvey Biljon, is taking a bigger picture approach to the forthcoming season, with the club intent on re-establishing its Cornish identity, with attempts made to sign younger players with links to the county.
"The supporters have got to realise it's going to be a little bit up and down," he said.
"We need to be able to say 'OK, this year we're on the big dippers, next year a bit less so and in the final year, we're driving through Holland with no speedbumps - that's the way to look at it, a three-year smoothing-out process.
"As long as we're not making the same mistakes consistently over a number of games, there's no harm in losing games if you're achieving your goals.
"The media play a large part in terms of managing expectations - they can heap pressure on people if they don't understand the full picture. It's about this three-year plan, it's not about being ready tomorrow, it's about being ready in 2015-16.
"When we get there it's not necessarily about automatic promotion because there's 11 other teams who also want promotion."
Davies said the new recruitment policy was something of a reaction against the club's previous direction.
"We fell in the trap a couple of years ago of going for older players, hoping that they would bring the quality and experience that we needed and it was a little bit hit and miss," said Davies.
"We've taken a step back and gone for the younger and hungrier player for the most part or guys who have a bit to prove and maybe haven't fully fulfilled the potential - that's mine and Harvey's job to get the best out of the players.
"It's a bigger squad and the average age has come down dramatically. Some of them will be found wanting but some will kick on and go on to higher honours."
The Pirates take on Bristol at Exeter Chiefs' Sandy Park in their first game of the season on Sunday 15 September, part of a double header to kick off the new Championship season.