Dai Young: London Wasps boss urges scrum patience
Last updated on .From the section Rugby Union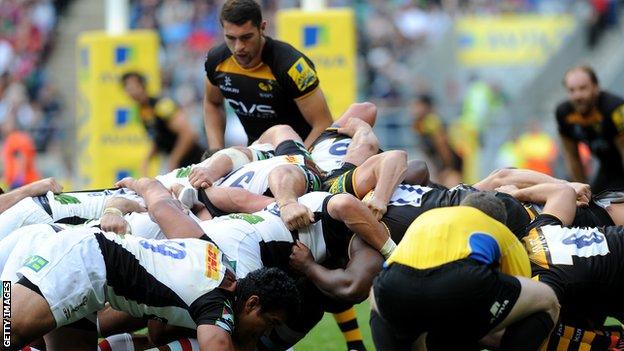 London Wasps director of rugby Dai Young has urged patience around new
at Twickenham, both sides took time to adjust to the changes.
A new three-stage scrum engagement sequence is being used this term, while scrum-halves will be expected to feed the ball straight.
"It's one game. I don't think anyone could suggest it wasn't an improvement on last season," said Young.
"It may not be where we want to be. Everybody needs a little bit of time to adjust to it."
As the game drew on Quins adjusted to the rules better, but there were still numerous resets and both sides were penalised for not putting the ball in straight.
The new engagement sequence, in which referees say "crouch, bind, set" is designed to take away some of the impact of the two packs colliding and in turn reduce the risk of injury.
And, with the ball entering more centrally, the hooker of the team in possession will need to compete in the scrum with one leg off the ground as he attempts to hook the ball backwards.
"What it does do is put the team in possession under quite a bit of pressure, because as soon as you put the ball in you're pretty much losing one of your pack regards the hooker," said Young.
"I think it's a bit of a work in progress. At the end of the day we knock them if they don't try it and still knock them when they do.
"We all have to try and support it and hopefully we'll get more of a spectacle out of it."