Lions 2013: History beckons ahead of 2nd Test in Melbourne
By Bryn Palmer
BBC Sport in Melbourne
Last updated on .From the section Rugby Union261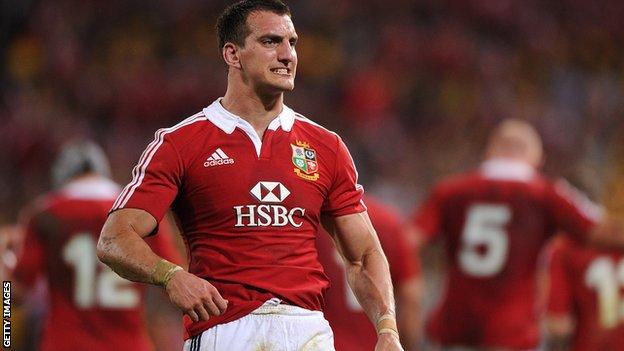 History is supposed to be written by the winners.
But even winners of the cast-iron variety can feel like losers when it comes to a British and Irish Lions series.
Take Martin Johnson, who no-one would dream of putting in the 'L' category. Successful Lions captain in 1997, England's World Cup-winning skipper in 2003.
Yet the final moments of his Lions career continue to fester and gnaw away at him, 12 years on.
Before a ball was kicked or a tackle made on this tour, Johnson underlined what is at stake for those players in red jerseys running out at Melbourne's Docklands Stadium at 8pm local time on Saturday.
"Nobody remembers a Six Nations or Tri-Nations from 12 years ago, but everyone remembers a Lions series," he said. "I played in over 80 matches for England and I can't remember all of them, but I recall every minute of every game I played for the Lions. It is a very special experience.
"I was walking the dog the other day thinking about that final line-out we lost in 2001. It lives with you."
The Lions' "failure" to win that line-out as the clock ticked down in the third Test in Sydney was one of the defining moments of that series.
If the 2013 squad do not want to experience similar pangs of regret, they need to seize the moment on Saturday.
There are enough old Lions from the 1989 and 2001 squads in Melbourne, engaged in various corporate, sponsorship and media activities, to serve as a reminder of what may lie ahead.
Win on Saturday, and those wearing red shirts will be invited to talk about it at length, at least every four years, for the rest of their lives.
At 24, Sam Warburton could join the company of the legendary John Dawes, Willie-John McBride, Finlay Calder and Johnson as victorious Lions captains.
No wonder the Welsh flanker has woken up every morning this week with the weight of that potential achievement on his mind.
"They are just young men," noted head coach Warren Gatland. "Winning on Saturday has the potential to change their lives in a positive way and open up different avenues.
"But we can't let that weight of expectation dominate our thinking. We are well aware of it but it is important it doesn't consume us."
Brian O'Driscoll, on the cusp of filling in the one blank missing from a stellar CV, spoke to the squad on Thursday about the need to embrace the opportunity in front of them.
Twelve years ago the Dubliner was a raw-boned 22-year-old with the rugby world at his feet.
Yet in retrospect, after two subsequent tours ended in physical and mental torment, he never had a better opportunity to win a Lions Test series. Until now perhaps.
Back in 2001, in the same Docklands Stadium that will stage Saturday's game, Wallabies centre Nathan Grey took out Lions flanker Richard Hill off the ball and Joe Roff intercepted a Jonny Wilkinson pass, two moments that changed the momentum of the whole series.
If the Lions were unfortunate on that occasion and approached the third Test held together by sticking plaster, and again in 2009 when suffering four crucial injuries - including O'Driscoll - in the second Test, the same cannot be said this time.
They know they dodged a bullet in Brisbane, as much a victim of their own tactical substitutions and poor game management as Kurtley Beale's choice of boots.
They cannot hope to ride their luck to the same extent again, against a Wallabies side who will be, as Gatland acknowledged, "absolutely desperate" and will "throw the kitchen sink at us".
This tour still has the potential to go pear-shaped at the business end but there is every indication the Lions feel they won't need such fortune this time.
While Gatland has taken a "calculated risk" in demoting Tom Croft and having no specialist second-row cover on the bench, the Lions are intent on not leaving the rest of the series to chance.
The set-piece may be more of an even contest, but the pivotal battleground in this contest is likely to be the breakdown, where Australia did a job on the Lions and scrum-half Mike Phillips a week ago.
With Dan Lydiate in to provide ballast and protection around the rucks, not to mention a chainsaw tackling technique, and a referee in Craig Joubert more inclined to allow a proper contest for the ball, the Lions hope that Warburton and company can stifle the Aussie threat at source.
Their fitness and goal-kicking certainly won't let them down, if the rest of the tour is any guide.
Besides, the Wallabies will not be the only ones with an air of desperation about them.
"I don't care how ugly the game is as long as we win," said Gatland, acknowledging the importance of victory not just to this group, but the whole Lions legacy and their future in the wider rugby world. "We are desperate to win the game and desperate to win the series."
It is not just the players with a hunger and determination to ensure this tour doesn't join those of 2001 and 2009 in the hard luck stories. There is unfinished business among the coaching staff too.
Forwards coach Graham Rowntree was part of the successful 1997 squad but failed to make the Test side, winning his caps on the unsuccessful 2005 trip to New Zealand. As a coach he was also heavily involved, like Gatland, in South Africa four years ago when the Lions got their front-five selection wrong for the first Test, and suffered a heartbreaking defeat in the second.
Attack coach Rob Howley's 1997 tour was cruelly cut short by injury a week before the first Test. In 2001 he shared in the high of Brisbane and low of Melbourne, before missing the decider in Sydney, again through injury.
No wonder the former scrum-half said on Friday: "If you dare to dream, it turns into a nightmare."
He was talking about the need for the players to stay focused and "task orientated" at every turn of what will be another tumultuous Test match. But he could equally have been talking about tours past, and how quickly unpredictable events can turn matches, series, and individuals' lives.
Listening to O'Driscoll - "probably the one player that deserves [a series win] more than anyone else" - address the squad, Howley admitted "the hairs on the back of my neck stood up" as the great man spelled out the lesson of Melbourne, 2001.
The Lions led 11-6 approaching half-time but blew the chance to bury the Wallabies, who rebounded spectacularly in the second half, rattling up 29 points to the Lions' three.
The current Australia side also have the weaponry to hurt the Lions if given space, with last week's two-try debutant Israel Folau, fellow wing Joe Tomane and full-back Beale a back-three rich in attacking potential.
"They are three very able players and if we can get the line functioning effectively, the sky is the limit," said coach Robbie Deans.
As the New Zealander, whose tenure could swiftly end with defeat on Saturday, predicted an epic a week ago, there was no reason to doubt him when he ordered a repeat prescription.
"I doubt it can get any more physical," he said. "The exchanges last week were 'full noise', so to speak. It was fast and furious, and it will be the same again. It is going to be a ripper."
For the Lions, it is not entirely win or bust. A further opportunity awaits in Sydney, but the pitfalls of a decider are great, as Johnson and O'Driscoll would testify.
If these Lions are to be remembered as winners, the feeling is history needs to be written now.