Rugby Sevens World Cup: England sides among favourites
By Sara Orchard
BBC London Sport
Last updated on .From the section Rugby Union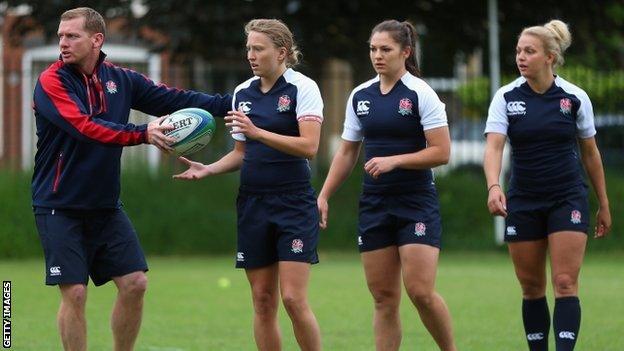 The sixth Rugby World Cup Sevens begins in Moscow on Friday, with England's men and women both starting among the favourites.
Both sides say they have learned from the last tournament in 2009, when they were strongly fancied but went out in the quarter-finals.
England men's captain Rob Vickerman said: "We're coming here with complete confidence but zero arrogance. We do want to win the World Cup, it's why we play the sport."
The England women are top seeds in Moscow, and head coach Barry Maddocks said: "We're here to challenge for the title. We're not going to shy away from that. We have a tough pool, so day one will be about getting out of the group, we'll worrying about day two when we get there."
England's men have been seeded fifth for the tournament and drawn in Pool F with Argentina, Portugal and Hong Kong. The pool matches take place on Friday and Saturday, with the knockout rounds on Sunday.
New Zealand were the 2013 champions of the HSBC World Sevens Series, with England finishing sixth. However, their form towards the end of the series showed improvement, with two third-place finishes.
England's 12-man squad includes Dan Norton, the top Sevens try-scorer in the world this year. Head coach Ben Ryan said: "Dan has been our most improved player, we're very lucky we've got the top try-scorer in the world, and last year's in Matt Turner. They possess huge amounts of fire-power and have a great all-around game."
The England women have been drawn against Russia, France and Japan in Pool D.
Limited resources in the women's game have meant that the RFU decided to focus the country's top players on Sevens for the last six months.
England women's vice-captain Alice Richardson hopes that investment, plus their relative failure in 2009, will give them an edge.
"There's six of the squad that was there in 2009 and we've learnt from that and shared that experience with this team," she said. "Ultimately it's sport and you have to lose sometimes - you can't win everything."
"We want to come home with a gold medal this time, that's 100% the aim of this team, but we know that every team here has the same aim. We want to win pretty badly- a World Cup is up there."
The interest in Rugby Sevens has increased since the announcement it will be included in the Olympic programme in Rio 2016.
Men's head coach Ben Ryan can't believe the difference to four years ago: "For lots of our rivals they've gained Government funding. Even in the women's game the Dutch team are now professional.
"There are more analysts, professional players, staff, competitions, prize money and spectators. It's just been on an upward curve that is incredible."
England men's squad: Tom Powell, James Rodwell, Mike Ellery, Rob Vickerman, Jeffrey Williams, John Brake, Mat Turner, Tom Mitchell, Christian Lewis-Pratt, Marcus Watson, Dan Norton, Mark Odejobi
England women's squad: Joanne Watmore, Heather Fisher, Marlie Packer, Michaela Staniford, Rachael Burford, Natasha Hunt, Alice Richardson, Katy McLean, Emily Scarratt, Katherine Merchant, Claire Allan, Francesca Matthews