Rebels' Lachlan Mitchell banned for lifting Lions' Simon Zebo
Last updated on .From the section Rugby Union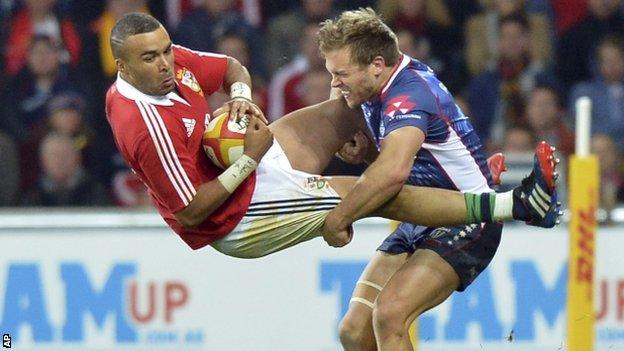 Melbourne Rebels wing Lachlan Mitchell has been given a one-match ban for lifting Simon Zebo during Tuesday's match with the British and Irish Lions.
The minimum ban for lifting is four weeks according to International Rugby Board guidelines, but Mitchell, 25, had that reduced for his previous record.
Judicial officer Nigel Hampton said: "I found that the incident was clearly at the lowest level for this offence."
The ex-London Wasps player will miss the Rebels' next Super Rugby fixture.
Mitchell had been cited under Law 10.4 (j), which covers dangerous tackling.
Hampton added: "Because of the circumstances and Lachlan Mitchell's good on-field record I have determined that the maximum reduction to the sentence of 50% should be applied.
"Further to this, I found that an additional discount to the suspension should be made as I believe a two-match penalty would be disproportionate to the level and type of offence that has occurred."
A former Sydney University student, Mitchell played at New South Wales Waratahs academy before moving to Premiership side Wasps in August 2008.
He made 31 appearances for the club before joining the Rebels in March 2010.
The Lions won Tuesday's match 35-0 as they prepare for Saturday's second Test with Australia.