Worcester: 'Fear factor' will drive on Warriors - James Percival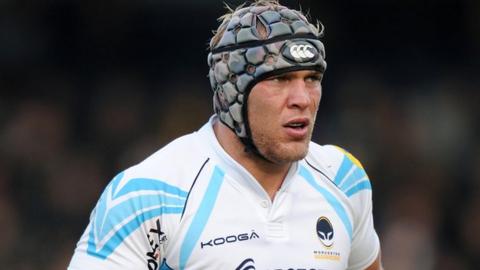 Worcester forward James Percival believes that the 'fear factor' at Sixways under new coach Dean Ryan can transform the Warriors into serious contenders for a Heineken Cup place.
"I genuinely feel the time is now," Percival told BBC Hereford & Worcester.
"If players aren't matching the mark the coaches want then you won't be there and that's the way it should be.
"It's pretty cut-throat and that fear factor is a good thing to have on the pitch as it brings us closer together."
Worcester looked to be heading in the right direction for the first part of last season, having been denied a place much higher up in the Premiership table only by a string of cruel, late decisions not going their way in a succession of matches.
Richard Hill's side then fell badly away after Christmas to finish just one place off the bottom in the Premiership, ending the campaign without an away league win to their name. But, with 13 new players on board, and a new coach, Percival hopes they are now ready to move on to the next level.
As they prepare for their ninth season in English rugby's top flight, since first being promoted in 2004, the Warriors are yet to earn a place in the Heineken Cup.
The closest they came was in their first season when they missed out in a play-off defeat by Saracens.
But Worcester have now brought in not only Ryan but Carl Hogg from Gloucester as head coach, while Shane Howarth has come in as backs coach.
And, as he warms up for his third season back at Sixways, after leaving for spells first with Northampton, then Harlequins, Percival is convinced that, with a new 'shape up or ship out' spirit in the camp, Ryan can benefit from the past failings of John Brain, Mike Ruddock and the most recent incumbent Hill.
"Every coach has come and gone and every time Worcester have learned something from that," 29-year-old Percival told BBC Hereford and Worcester.
"It's like being at a new club, to be honest. This is a fresh start."
And he admits that the major emphasis in training is on generating the right team spirit.
"We had large truck tyres and weights and chains. There was 500 kilogrammes of weight in total and we had to carry it for a mile around the pitches.
"People driving past on the M5 probably thought: 'What are they doing?'
"It was a pretty tough session but the main point of it was team building and getting to know each other even more.
"As a group of players, you have got to look after each other because, when the chips are down on the pitch, you will pull together like a band of brothers."
James Percival was talking to BBC Hereford & Worcester sports editor Trevor Owens.