Wales hooker Huw Bennett forced to retire through injury
Last updated on .From the section Rugby Union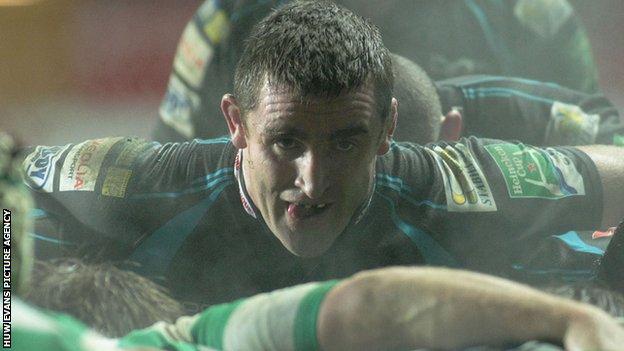 Huw Bennett has announced his retirement as a player after three operations failed to cure an Achilles tendon problem.
Bennett joined French club Lyon from Ospreys four months later, but failed to play a game for his new club.
"You've got to face it for what it is... a career-ending injury," he said.
Bennett explained he had been presented with an option of a further operation, but decided against it because there was no guarantee of success.
"It's just time to look forward and look ahead to what life brings now," Bennett added.
Two "minor" operations were carried out immediately after Bennett suffered the injury and he passed a medical before moving to French Second Division side Lyon, having made 142 appearances in nine seasons with Ospreys.
However, it quickly became apparent after he moved to France that his recovery was not going to plan.
"I went there [Lyon] hoping to be running within three weeks of pre-season," said Bennett.
"It got the point where the season had started and I was still in the rehab room, so I obviously wanted to repay them for having invested in me and, being the kind of character I am, I wanted to do that on the field.
"That's when Lyon then re-investigated and the decision then was to take a more intensive kind of operation, with a six-to-eight month recovery."
But Bennett did not recover and decided to call time on his career rather than undergo a fourth operation, and acknowledges the help Lyon provided during his time at the club.
"[I would] feel the embarrassment going into training and not being able to help them on the field," he admitted.
"And whenever I felt that emotion, I guess it showed in my face because in typical French style the coaches would come, they'd give me a hug and say 'don't worry, it's life, it's sport' and for that reason I can't thank them enough.
"They've been in the talks with me during this process and there're no bad terms."