Mike Blair column: Scots desire pays dividends against Italy

By Mike Blair
Former Scotland scrum-half
Last updated on .From the section Rugby Union18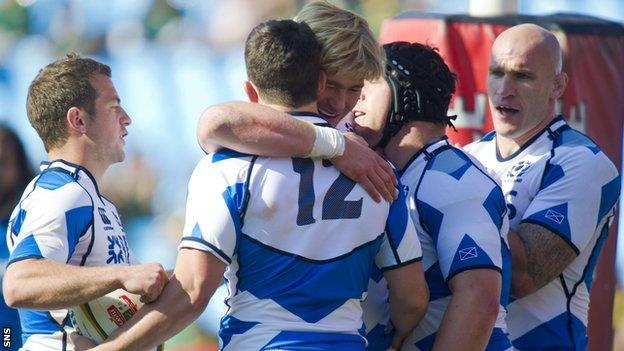 It must've been a strange atmosphere to play in, with reports of only 5,000 people making the kick-off at the Loftus Versfeld Stadium in Johannesburg, for this Test match against Italy.
But here, the Scots had to make their own intensity.
The game didn't start well, with the Italians controlling possession and scoring a soft try through 20-year-old debutant winger Leonardo Sarto.
Matt Taylor, Scotland's defence coach, will have been very disappointed with their first defensive 'set.'
And it wasn't just the scoring phase, where Tom Heathcote and Sean Lamont didn't communicate the 'blitz' (coming up hard from the outside) or 'slide' (sit off the attack and allow time for inside support to help).
Two phases previously, the forwards over 'folded' the same way and, having done that, they still failed to prevent quick ball at the tackle: hence the shortage of numbers on the return play.
Two key aspects of defensive structure - looking at what's in front of you and communication - were lacking in the first two minutes of this test match.
There were a couple of other occasions in the game where there were slight lapses in concentration but, generally, in open play, it didn't feel like Scotland were going to be really cut open, which will have pleased Taylor.
However, the set scrum did pose problems and was the main Italian threat.
The work of Alex Dunbar post-tackle caught the eye, winning two crucial turnovers thanks to swift movement back onto his feet.
It's worth noting that when the new rules come into play, renewed attention will be paid to the 'jackler' (player trying to steal the ball) being able to hold his own body weight at the breakdown. This will see the game evolve again…
I was delighted to see Dave Denton back in the starting side. He has the X-factor, illustrated by his tackle bust and offload to set up Matt Scott's beautifully finished try.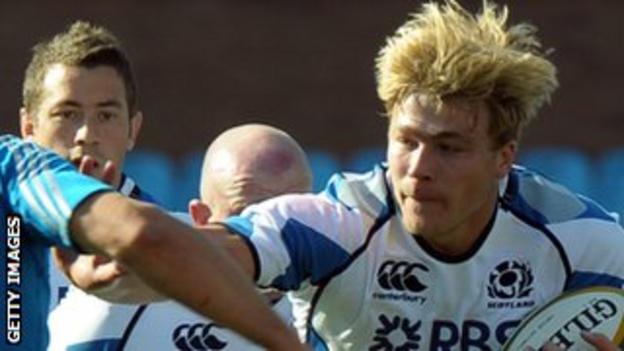 Having ball carriers with the power and offloading ability of Denton and Johnnie Beattie puts fear into the opposition.
The signs of a well-coached side are when there is a structure and a gameplan in place but everything still looks fluid.
I felt there were times in the game where this was achieved. Players had an understanding of what they were doing and where they were meant to be going and a number of phase play options were utilised well.
It wasn't by any means perfect but Scotland were creating opportunities and looked dangerous with ball in hand. Unfortunately, the clinical edge wasn't there this week.
Then to the last five minutes. How did Italy lose it? Well, the referee certainly played a part.
A penalty to Scotland around the 75-minute mark from a collapsed scrum seemed dubious at best, to give field position.
Three minutes later Scotland were given the feed to the next scrum on the 22m line, where Henry Pyrgos had, in fact, been caught in possession and knocked on.
However, you ride your luck and play the cards you are dealt. Scotland have been on the wrong side of referee decisions before and will be again.
What this team showed in the last few minutes of the game was a will to win. The final phases were scrappy and slightly disorganised to be honest but they wanted it and they got it with a very well deserved try to Ally Strokosh.
Much has been made of the 10 newly-capped players on this tour and the process of development with which the national side must undergo before the World Cup; and there is certainly plenty to talk about and analyse.
But I want to finish this column by recognising the work of Sean Lamont.
With all these youngsters around him, Lamont has really stepped up and is looking as fresh and strong as ever and played a vital role in many of the positive sequences of play this tour.
A strong, combative winger in the mould of George North and Alex Cuthbert, who can also play centre - I thought he was deserving of a Lions call up 10 days ago.