Lions 2013: Jeremy Guscott's Australia v Lions analysis

By Jeremy Guscott
Lions legend and BBC rugby union expert in Brisbane
Last updated on .From the section Rugby Union80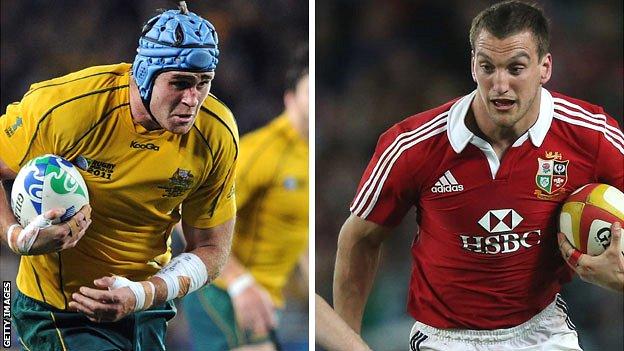 Jeremy Guscott played eight Tests for the Lions over three tours and landed the drop-goal that won the series against South Africa in 1997.
Here he analyses the first Test for BBC Sport as the Lions take on Australia in Brisbane, 12 years after their last visit.
Sam Warburton captains a Lions side featuring eight Welshmen, while Australia have handed out three news caps, with former rugby league international Israel Folau one of the debutants.
Australia won the last series between the two sides 2-1 back in 2001.
Gameplan: Is this Lions power v Aussie flair?
The Lions have a head start on the Wallabies having played six warm-up games and there is no substitute for real games versus training-ground runs.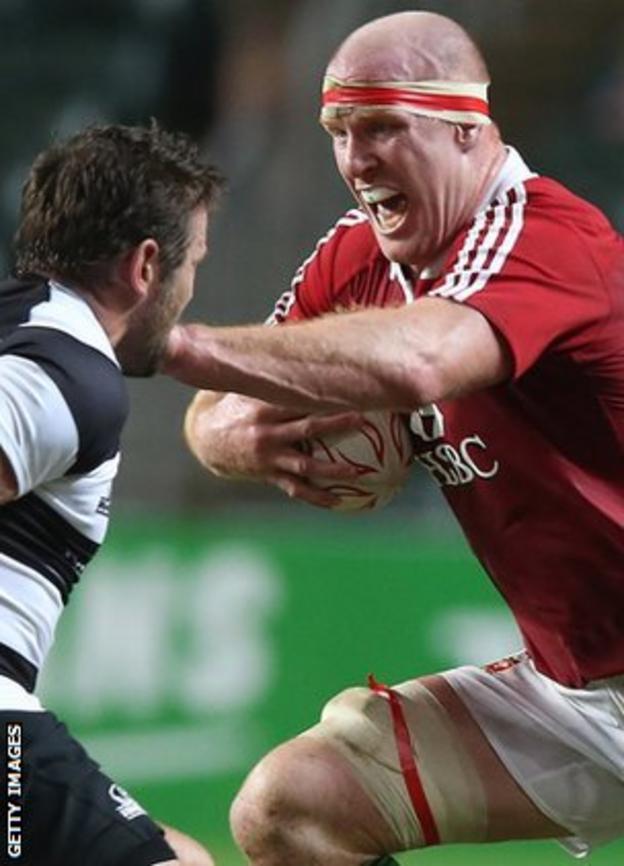 The Lions pack does look strong and powerful but I don't think it will be as simple as bashing down the door. Don't get me wrong, there will be a fair bit of that from the Lions, but they have shown through a number of the tries they have scored so far that they have skill and subtlety outside the pack, and the ability to execute accurately as well.
The Lions have to look at where they believe they have the advantage and ram that home, and the balance of ball-carrying v hard-working forwards looks just about right.
Adam Jones (whose entertaining column is well worth a read), Alun Wyn Jones and Paul O'Connell will hit rucks and mauls all day, while Tom Youngs, Tom Croft, Jamie Heaslip and Sam Warburton must carry hard and relentlessly to tire the Aussie defence out.
The Wallabies will not have any mental frailty coming into this game, they've been in camp for a long time preparing for this series and will be itching to get out on the paddock. Whoever the Wallabies play, everyone believes that they have a massive weakness in the scrum, but yet they have still not been totally dismantled in recent times.
What is clear is that they don't have a scrum that is as strong as that of the Lions, but only if there is a lot of scrummaging will that be a slight worry for them.
Word on the street here in Brisbane is that the Wallabies intend to try and play a fast-moving, counter-rucking game and will attempt to play at a tempo that the Lions will find difficult, as they did against the Brumbies on Tuesday.
It's a good gameplan, they just need the ball to do it. That will be the hard bit for the Aussies.
Breakdown: Can Warburton gain edge over Hooper?
Captain Sam Warburton simply has to win the breakdown contest with opposite number Michael Hooper. If he doesn't the Aussie gameplan will succeed and winning for the Lions becomes very hard work.
Warburton is getting fitter and stronger as the tour progresses and he needn't worry about the captaincy because he has so much experience around him.
The Wales open-side's performances have been steady without being amazing and he needs to find his 'A' game against Hooper, who is young, keen and impressive.
The Wallabies may be without the superb David Pocock and George Smith, who are both injured, but the 21-year-old Hooper has had a good Super XV campaign with the New South Wales Waratahs.
He's an attacking flanker who makes a lot of carries, beats defenders and makes plenty of clean breaks - he's the key to the Wallabies being successful.
I believe whoever wins the personal battle between Warburton and Hooper will go a very long way to determining who wins the game.
Fly-halves: Is Sexton better than O'Connor?
It's not as simple as saying Jonathan Sexton is better than James O'Connor, because on any given day I believe O'Connor's talent means he could run circles around anyone. Whether O'Connor will be a better fly-half than Sexton on Saturday is a different question.
The smart money says that given O'Connor, 22, has hardly played at 10 in senior rugby, and only played there once for Australia, it's a big ask by Wallaby coach Robbie Deans to ask him to run the team and ensure it keeps its shape and structure.
Having said that, Deans wouldn't have asked him to play fly-half if he didn't believe he could do the job.
Just as full-back Leigh Halfpenny's kicking will be vital for the Lions, so will Sexton's ability to organise the attack and keep those big Lions ball carriers coming at the Aussies - he has to spot the mismatches when they occur and put the quick guys up against the slower fellas.
The Irish fly-half has had a good tour, he deserves his spot and will continue to play in an attacking style. He gets flat in the face of defenders, making them commit to him and leaving space outside.
I think the Lions have a definite advantage here, but only if Warburton can pressurise O'Connor into rushing decisions. If the captain can really pester O'Connor he will resort to type, which is to run as his first option, and the Lions should be able to cover that.
Scrum-halves: Brain v brawn in Phillips v Genia?
In many people's eyes Will Genia is the best number nine in the world - but I bet you he's not in Mike Phillips's eyes.
Phillips had a strong Six Nations and has continued that fine form, I just hope he doesn't take on the Aussie defenders too much. It's a fine line and he has to get it just right otherwise he could get turned over too many times going on his solo jaunts.
He got it right against a tired Barbarians side in the first game of the tour, but it won't be that easy against Australia.
Queensland Reds star Genia has to be closed down because he is very lively. The Lions will have worked on specific defensive strategies to keep him in check but it's never easy to corral brilliance.
Genia has speed of both foot and mind. He can break in the blink of an eye and will be the man keeping the Wallabies ticking. You can't take your eye off this fella for a second, he's a real game-winner.
Centres: Happy with the Lions' balance there?
Ideally you wouldn't have Jonathan Davies and Brian O'Driscoll as a centre combination but with injuries and Davies's form, this is where the Lions have ended up. Both players are in great form and O'Driscoll is looking at his best, he wants this series win so badly you can feel and see it in everything he does.
Davies would have been hard served if he hadn't been picked for the first Test given his form on tour but new teams are about developing combinations and not so much about individuals.
I'm waiting to see if Davies can play his own game or if Gatland will be asking him to play like the injured Jamie Roberts and Manu Tuilagi and look to dent the not-so-big Aussie inside three of O'Connor, Christian Lealiifano and Adam Ashley-Cooper.
Davies may not be quite as physical as Roberts but he is over six foot and weighs 16st 5lb so he has the physique to do the job, and I'm sure he will mix it up and combine the physical side of the job with his footballing skills.
Player focus: What do you make of Folau?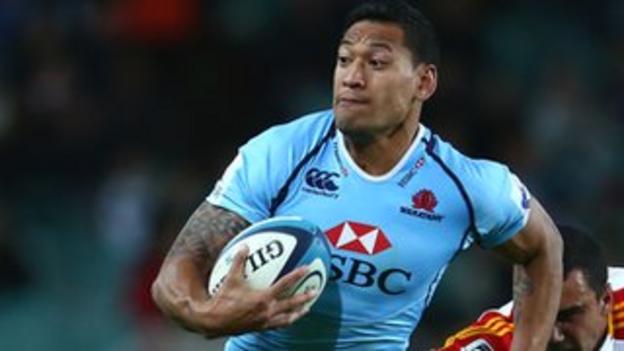 Personally I can't wait to watch Israel Folau get the ball in his hands or jump for a high ball because given everything I've seen on YouTube, this guy is a real talent.
Although he has been playing at full-back for New South Wales, playing on the wing won't be a problem for this guy and I think given Gatland's chat about testing him there it will be interesting to see how it unfolds.
A lot of rugby union defence is based on rugby league structures these days and Folau, 24, played rugby league for Australia - he also played Aussie Rules in the AFL - so I don't think he has a problem with defence, but I'm interested to see if Gatland has found a weakness in him.
In his short rugby union career so far - he has only played 14 games - the 6ft 5in Waratah is amongst the top three players in Super XV for carries (170), metres (1,133), defenders beaten (54), clean breaks (18) and off-loads (36). Sit back and enjoy the battle between George North and Israel Folau, it should be epic.
Prediction: Who's going to win then?
The Lions have the advantage in some key areas - set-piece, goal-kicking and at fly-half - and this, along with most of the team having played together last week, will be enough to win this game.
I can't see the Wallabies being able to come out of the blocks playing at the high level of execution required to win at this level having not played together for nearly seven months. If they do, then they deserve the win.