Lions 2013: Adam Jones on pre-Test nerves, families & coffee
Last updated on .From the section Rugby Union199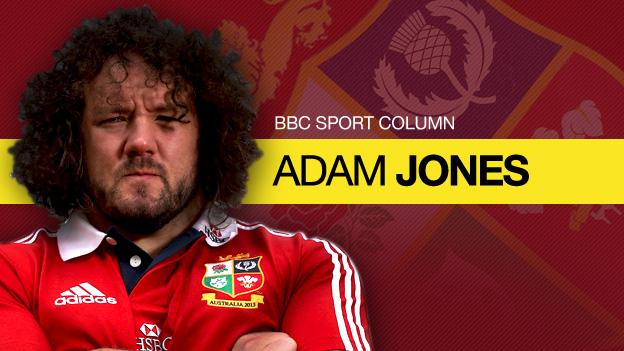 In the latest of a regular series of columns for BBC Sport, British and Irish Lions prop Adam Jones provides a look behind the scenes of the Lions tour of Australia on the eve of the first Test.
You can tell there's a Test match coming up. There's a buzz around the place. Things have definitely picked up on and off the field.
It was the same four years ago in South Africa. The first few weeks were quiet, you see a few fans, and now all of a sudden they are everywhere in Brisbane. There must have been 50 or 60 outside the hotel just to see us getting on the bus to training.
A lot of players' families are here now as well and I was chuffed to see my wife and two-year-old daughter when they arrived on Thursday. I was that excited I was up at 5.30am and they didn't get in until 9.30. My in-laws are here as well now and my parents have been here since the start.
It's great to have that support around you and the Lions have got a family room in the hotel where if you don't want to be stuck in your room, the kids can run around.
The day before most internationals, Alun Wyn Jones, Richard Hibbard, Ian Evans and myself will go for a coffee somewhere in the afternoon. It's not quite a ritual but it's something we've done for the last four or five years.
There are plenty of fans around now, but I am always happy to sign something or have my photo taken. At the end of the day they have paid a lot of money to come out here and support you.
On Wednesday we had a team meeting and [tour manager] Andy Irvine spoke first before [head coach] Warren Gatland announced the team for the first Test. It was nerve-wracking, similar to when the squad was announced. I read that I was expected to start and you are dying to be there, but until your name is read out you are incredibly nervous.
Before the first Test four years ago I was disappointed, but the onus is on the player not picked to make the guy who has got the Test place a bit more comfortable with a handshake or tap on the shoulder.
To be fair to Dan Cole he came up to me straightaway and said 'well done'. I was the same with 'Vicks' [Phil Vickery] four years ago. I roomed with Coley last week and we got on pretty well anyway. And now I'm with Tom Youngs. We are splitting up the Leicester boys slowly!
We had a tough day on Thursday with training sessions in the morning and afternoon. It was pretty flat-out but I think it was needed. As much as we trained as a team before the Waratahs game [which the Lions won 47-17 last Saturday], there are a few different players from that side.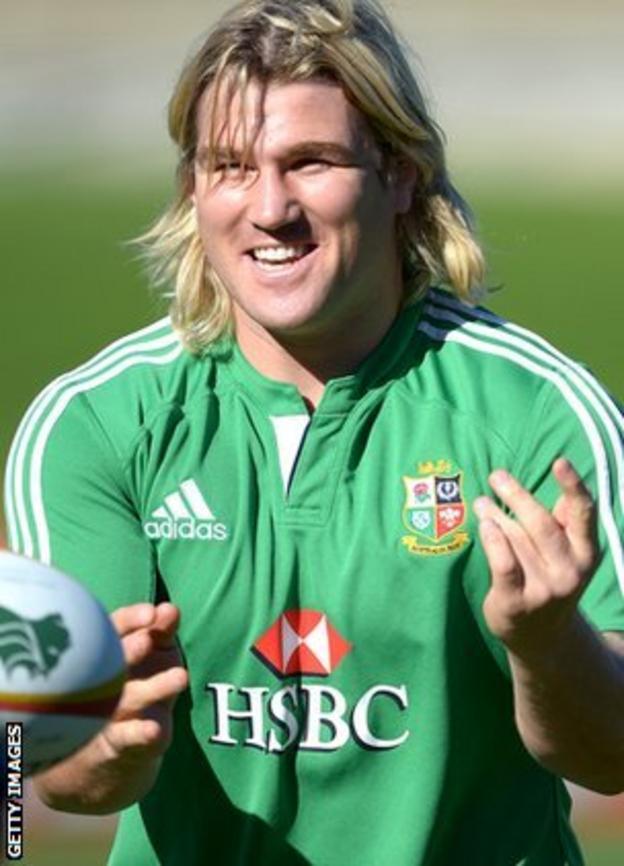 Alex Corbisiero has come into the front row and 'Gats' has said he is in there for his scrummaging, but it's a pack effort.
A lot has been made about how [hooker] Tom Youngs used to be a centre a few years ago, but the fact he plays for Leicester tells you everything. He obviously got up to speed on scrummaging very quickly because he is excellent, very technical.
I think he learnt a lot from [former Wales hooker] Mefin Davies (who had a spell at Leicester). I also learnt a lot from Mefin 10 years ago.
We know how hard it is going to be. It is not like a few years ago when people used to rubbish the Australian scrum. Boys like Benn Robinson, Stephen Moore and Ben Alexander have been around the block and are seasoned internationals. There are no weak links but we have got to back ourselves to do the job.
Australia play international rugby regularly against New Zealand, South Africa and Argentina, so it is going to be incredibly physical. They have picked a big pack, but with the Wallabies you expect some ingenuity and ground-breaking stuff.
Ever since the Brumbies came along in 1996 with some backline moves people had never seen before, you are always expecting something different. They have had a few weeks to work together in camp and I'm sure they'll bring that element on Saturday.
We know it is going to be tough but our confidence is high. We've been working pretty hard in training and just have to play our own game. Everyone can see how good this squad is. There is a lot of competition for every place and that is ideal. You get pushed on and you need to take it to the next level to keep your place.
There will be a few nerves before kick-off on Saturday. Guys I have played with like 'Jenks' [former Wales fly-half Neil Jenkins, the Lions kicking coach] and Ryan Jones would be sick before the game. I used to get very nervous going onto the field but I don't think I'm ever that bad. I'm a lot better than I used to be.
In the dressing room beforehand, it is all very personal. An hour before the game you will begin the process of getting strapped up, stretching, taking any supplements you need, maybe have a drink. Some boys have a shower to freshen themselves up. I might have a chat and a bit of a laugh with someone like Richard Hibbard. Some people are more intense.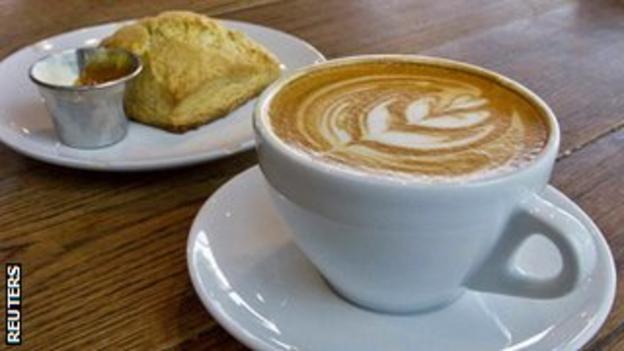 Then. half an hour beforehand, is the time to switch on. We'll head out for the warm-up and come back in eight to 10 minutes before kick-off. Then you just have to get ready mentally. Some boys are shouters and like to talk a lot. Some need to release their energy. I would rather sit down and read the programme and chill out.
I used to play with Huw Bennett at the Ospreys and he would go round roaring and shouting - a head-butting-the-walls type. Each to their own. I don't think we have too many like that here.
Someone like Paulie [Paul O'Connell] speaks a lot, but he speaks a lot of sense, getting you revved up for it. Drico [Brian O'Driscoll] will probably speak about the defence and Warby [captain Sam Warburton] will have the last word before we head out.
Running out into that sea of red in the crowd, as I did in Pretoria [for the second Test in South Africa] four years ago, is brilliant. It is a hell of an experience. We don't have an anthem with the Lions, so you go through theirs, which is fine, but it just keeps you on the edge that bit longer. It is always that minute before kick-off where we might have a huddle and everyone gets a bit emotional.
All the boys appreciate how much of an effort it is to get to Australia, so to have that many fans out there cheering us on makes you feel pretty good. We just need to reward them with a victory now.