Junior World Championship 2013: Wales relishing England final
Last updated on .From the section Rugby Union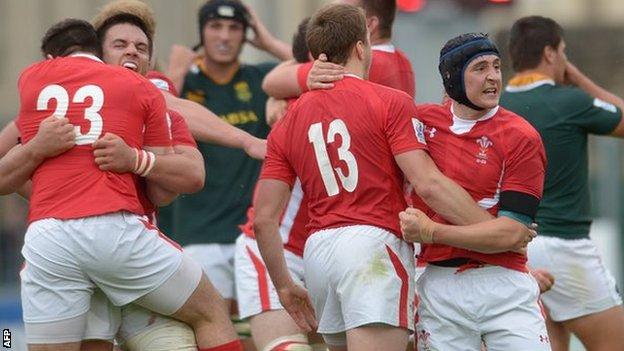 Defence coach Richard Hodges says Wales Under-20 are relishing a Junior World Championship final against England.
Wales reached Sunday's final for the first time following their dramatic 18-17 semi-final victory over South Africa in France.
England booked their place in the final with an equally impressive 33-21 win over four-time winners New Zealand.
"It's a World Cup final and you couldn't wish for better opponents than England," Hodges said.
"They'll be clear favourites, as Argentina were [in the pool stage] and as South Africa were.
"But if we can beat Argentina and can beat South Africa then we can certainly beat England."
Sam Davies' last-minute conversion of Ashley Evans' try secured a thrilling win over South Africa to book Wales' place in the final.
"The last thing we spoke to them about before we left the team room was that this group would go and make some history," Hodges said.
"And that's exactly what they did. And the circumstances… were pretty extraordinary.
"We were a bit worried in the coaches' box that maybe we had exhausted the opportunities that were going to be presented to us to win the game.
"Sam's been very, very consistent to a particular high level during the course of this tournament with his kicking game and his attacking game.
"He deserved huge credit for that kick."
England beat Wales 28-15 to secure the U20 Six Nations Grand Slam in March but Hodges said that result in Colwyn Bay would have no bearing on Sunday's final in Vannes.
"We were quite disappointed with our performance that day," Hodges added.
"We didn't present them with too many challenges if we're honest.
"It's going to be tough. They've got a particularly dangerous back three and a big heavy pack.
"With all due respect to where we've come from in that Six Nations tournament, this is a one-off World Cup final.
"Not on many occasions coaches or players will be able to say they've partaken in a World Cup final.
"This is a huge occasion and we need to make sure we play the game and not the occasion."