Jonathan Davies 'didn't want to play for Wales' after league return
Last updated on .From the section Rugby Union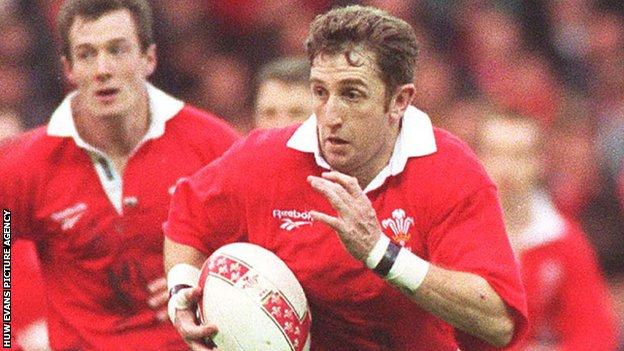 Jonathan Davies admits he did not want to play for Wales after returning to rugby union from rugby league in 1995.
Fly-half legend Davies was among the first players to return to union after it cast off its amateur status.
The popular television rugby pundit says in a new BBC Wales television documentary that he felt "past his best" by the time he returned to Wales.
"I was a lot slower and couldn't give to Wales what I gave maybe 10 years before," Davies admitted.
Davies was captain of Wales when he joined league side Widnes in December 1988 after winning 27 caps.
He made a further five appearances for his country after his return from rugby league, but admits playing for Wales had not been part of the plan.
"I didn't really want to play for Wales again to be honest," he said.
"Do you ever turn down playing for your country? No you don't. But no, I was past my best then.
"But it was nice to play for Wales again and have that adrenalin rush of going out again on the Arms Park. It was unbelievable."
The programme, Jonathan Davies: A Trimsaran Boy, which will be shown on BBC One Wales on Thursday, also outlines the circumstances of Davies' controversial and record-breaking move to the 13-man code.
His biographer, the respected Welsh journalist Peter Corrigan, claims the player turned his back on his dream of playing for the British and Irish Lions on their 1989 tour of Australia because he feared being dropped by Wales.
"His ambition at the time was to play for the Lions," said Corrigan.
"And he knew that team was being thought of by Ian McGeechan who had just been appointed the head coach.
"He [Davies] thought: 'I'm going to be dropped as captain by Wales and that's not going to help my Lions candidature'.
"And Doug Lawton, a very persuasive man who was in charge of Widnes, came down and caught him [Davies] on the hop."
Davies himself admitted that the fall-out from Wales' 15-9 home defeat to Romania on 10 December 1988 had been a major factor in his decision to accept Widnes' offer.
"I wasn't happy. I got blamed for that defeat and then all of a sudden the unthinkable came into my mind that I was going to get dropped [from] playing for Wales," he said.
"You know I've got no qualifications to fall back on, that's when the rugby league boys came down and there was an avenue out for me."
Davies' subsequent move from rugby union for a then record fee of £230,000 sent shock waves through the Welsh game and subsequently led to several other high-profile internationals making the move to rugby league - including John Devereux and Paul Moriarty who joined him at Widnes.
Six years later, the trigger for Davies' return to Wales was his first wife, Karen, being diagnosed with cancer following the birth of their third child.
Davies already had personal experience of the disease after his father, Len, had died of cancer at the age of 44 when Davies was just 14 years old.
"I was in a quandary. I had three kids, my two daughters had been born up in Warrington and then my wife was diagnosed with cancer," Davies said.
"What did I want to do do? I wanted to come back to Wales and have the support of my family through that period."
He added that family and the experience of having dealt with bereavement meant he was better prepared to deal with Karen's death in 1997.
"I was prepared for it better because I'd lost my dad," said Davies.
"Although you're in the public glare, bereavement is a very private thing.
"The key is being strong, putting a public profile in place but then a different one when you're private.
"Being the dad, the man, you have to keep it going as normal as possible.
"Perhaps I did go off the rails a little bit I suppose, you know, in the drinking stakes but hey, sometimes you cope with it that way.
"But the discipline of TV schedules and kids going to school was the key to keeping me on that straight and narrow."
Today, Davies is an energetic charity fundraiser and president of the Velindre Hospital charity that has raised £7m in the past five years.
Jonathan Davies: A Trimsaran Boy is on BBC One Wales at 21:00 BST on Thursday.