Lions 2013: Jeremy Guscott Lions special Q&A
Last updated on .From the section Rugby Union246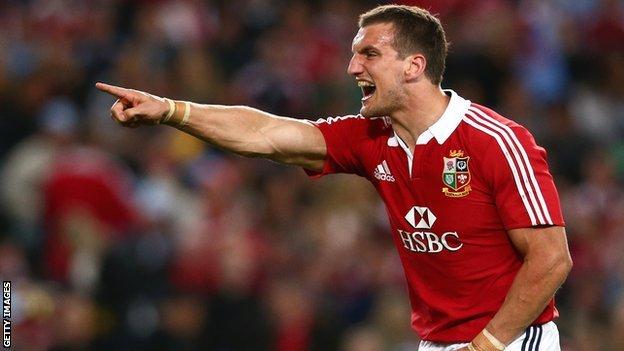 Among the topics Jerry discusses this week are:
- Which XV he would pick for Saturday's first Test
- The selection of 36-year-old Shane Williams to face the Brumbies
- Which Lions new boy has impressed him most on tour
- Whether the Lions should have taken a larger squad
- Why Quade Cooper is not in the Australia squad
Jerry answers questions posted on the website at the start of every week - entries are now closed for this Q&A. This week's answers appear below.
What is your Lions team for the first Test against Australia in Brisbane next Saturday? BBC Sport
At the time of writing [Monday evening] and assuming everyone on tour is fit, my XV for the first Test would be: Leigh Halfpenny; Sean Maitland, Brian O'Driscoll, Manu Tuilagi, George North; Jonathan Sexton, Mike Phillips; Mako Vunipola, Tom Youngs, Adam Jones, Alun Wyn Jones, Paul O'Connell, Tom Croft, Justin Tipuric and Toby Faletau.
With a couple of my selections playing against the Brumbies on Tuesday it's unlikely they will actually start in the first Test - but that's the team I would pick to take on the Wallabies in Brisbane on Saturday.
Hi Jerry, simple question, with the first Test this week, who do you think Gatland will pick in the back row? And would you pick the same back row? Josh_Jackson
Hi Josh, if everyone is fit I would pick Croft, Faletau and Tipuric, but I think Gatland will pick Croft, Jamie Heaslip and Sam Warburton (pictured above).
Do you think it's a problem that the back row that's starting Tuesday - Tipuric, Sean O'Brien and Faletau - is better than the back row that looks set to start the Tests? Bluechief
Hi Bluechief, again this is so subjective, we have all watched the games and outside statistics we all have our own thoughts on how well - or not - we believe players have played. The back row was always going to be a very difficult selection because of the calibre and talent available.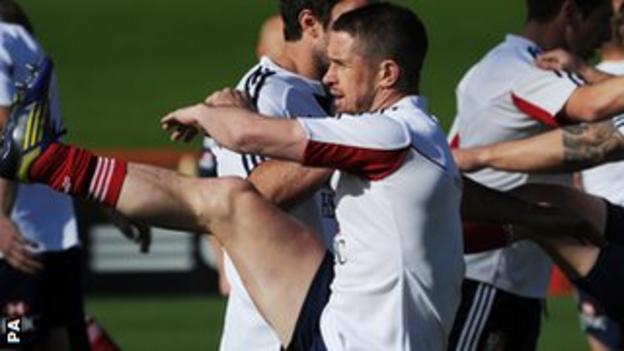 I genuinely don't think it's a problem because they are all such good players and I don't believe many of us would think the back row you named would be out of place if it started the first Test.
Hi Jerry, what are your views on the selection of the 36-year-old Shane Williams? It's no doubt to anyone that he is a top player but surely calling up a player who has spent the past year playing in Japan is a crazy move from Warren Gatland? Especially when you look at the quality back home (Andrew Trimble, Tim Visser, Mike Brown, [dare I say it] even Chris Ashton). Chris
Hi Chris, there's no doubt it is a kick in the teeth for the current international wingers not in the party, but we have to remember this is Warren Gatland's decision, not Shane Williams's.
So far Gatland's made good decisions and the decision to call up the Welsh veteran looks like a band aid to see the Lions through the next couple of days, which will give those players who are currently are injured time to get fit again for when they are next needed. I don't believe this decision will have an impact on whether the Lions win or lose the Test series.
Jerry, based on your previous comments, your selections for centres were Brian O'Driscoll and Jamie Roberts. If Roberts is ruled out by injury, will Jonathan Davies now partner O'Driscoll after his amazing performance against New South Wales? I feel Manu Tuilagi's distribution and defence are suspect. Darts Fan
Hi Darts Fan, without doubt Jonathan Davies had a brilliant game against New South Wales on Saturday - the dilemma is whether Gatland believes a Davies/O'Driscoll combination would work.
Personally I would like to see a hard-running, defence-bashing inside centre alongside O'Driscoll and Davies isn't that player. In fact, like O'Driscoll, Davies would like one of those big bashers playing inside him.
If Roberts isn't going to make it I would change like for like and have Tuilagi - if he has recovered from his shoulder problem - play inside centre with either O'Driscoll or Davies at 13. Only if neither Roberts or Tuilagi are fit would I go for the JD/BOD combination.
Are we underestimating the Australians? They might have had a few big injuries, but so have we, so do you think either team has got an advantage out of all the injuries? Lionsrus
Hi Lionsrus, the injuries will have affected the Lions more. They have been developing combinations on the road and are having to change things at short notice, with little opportunity to develop familiarity.
Most of the Wallabies' injuries happened before they went into camp so they've trained as units, without disruption. As for your first point, no Test team will ever underestimate the Aussies - they are ranked number three in the world after all.
Hi Jerry, do you believe that Gatland not calling up James Hook to the Lions squad and Robbie Deans not selecting Quade Cooper is based on their style of play or a clash of personalities? Joni89
Hi Joni89, I believe Deans not picking Quade Cooper is a result of Cooper not currently delivering what Deans has asked of him, plus some fundamental disagreements on how the team should play.
Gatland not selecting James Hook I believe is simply a subjective choice of his, he believes Sexton and Farrell are better placed to deliver the gameplan the coach wants.
In the case of Hook I believe he's not selected by Gatland based purely on his playing style. But Deans not selecting Cooper is, I would suggest, based on a combination of playing style and differences of opinion.
Hi Jerry, what do you make of Bob Dwyer's comments about the Lions being cheats? I can't help but feel he is criticising areas of the game that are prevalent in nearly every international match, both in the northern and southern hemisphere. Do you think he has a point or, like me, do you think he's just trying to add some controversy to proceedings? Jimbo
Hi Jim, in a lot of ways I think Dwyer's comments about the Lions are a bit like those Jim Telfer made about England in the Six Nations - they're for effect.
Dwyer rightly has respect because of his achievements in the game - he coached Australia to victory in the 1991 World Cup - but when we read his recent comments you have to think 'bless him, his one-eyed nationalism has got the better of him'.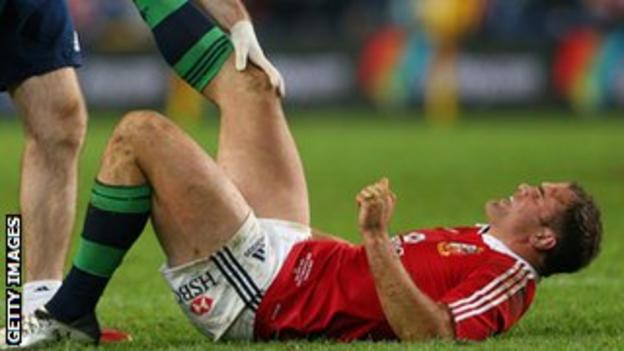 Hi Jerry, I've noticed a lot of people still assuming that Roberts, if fit, will be in the starting line-up. How badly does he have to play for this not to be the case? Against Combined Country, he was the worst player on the field and as far as I can tell, hasn't done anything other than the Lions tour four years ago to justify his immunity to being dropped. rugby4ever
Hi rugby4ever, Roberts had a poor game against Country and needed a big performance against NSW, which didn't really materialise, but it wasn't rubbish. Looking at combinations and if everyone was fit then you could easily have either Roberts or Tuilagi at inside centre with O'Driscoll or Davies at outside centre.
Personally I like the Tuilagi/O'Driscoll combination but wouldn't be disappointed to see Tuilagi/Davies or Roberts/and either O'Driscoll and Davies. However, it looks as though Roberts won't be in the equation for the first Test because of his hamstring injury.
Hi Jerry, the Lions injuries are really starting to pile up, especially in the backs. Were the Lions coaches naive in not taking more players in the first place or could no-one really have predicted the sheer number of injuries we have seen? Feargus
Hi Feargus, I don't for one minute believe the Lions coaches were naive. Personally I think it would have been harder to get a much larger squad to bond and it looks as though the injuries on this tour are set to be above the average, so the circumstances are unusual.
In my humble opinion every player on the tour has to believe they have a real chance of claiming a Test place. If you eliminate that by having a large squad and not giving everyone a start you will get unhappy players, which will create divisions within the squad, and that's fatal.
Hi Jerry, which of the Lions debutants have most impressed you to date on this tour? Dazzlingdublinblue
Hi DDB, a lot of the new boys have impressed but Mako Vunipola and Stuart Hogg are the ones who stand out for me. Scotland full-back Hogg's sheer natural ability makes him a pleasure to watch, he has so much attacking instinct and the tools to back it up.
England loose-head Vunipola went into the tour as an outside bet for the Test XV but for me he is keeping alive what the Lions should mean to players. You have to believe it's not about reputation, it's about form on the tour and taking your opportunities, and it looks as though he will start in the first Test in Brisbane.