Hooker Matthew Dwyer signs full-time Ospreys deal
Last updated on .From the section Rugby Union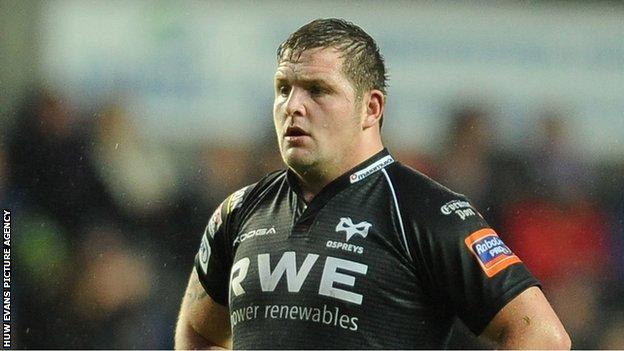 Hooker Matthew Dwyer has signed a full-time contract with the Ospreys.
The 28-year old combined life as an Osprey with his job as a soldier last season after impressing in the Welsh Premiership with Bridgend Ravens.
But with the support of his regiment, the Welsh Guards, Dwyer can now focus full-time on regional rugby.
"It's nice to know that I've made a big enough impression to be offered a contract here, and the army are fully supporting me," Dwyer said.
"I came in last year from Bridgend but I didn't do a full pre-season because of other commitments, and I had to balance rugby with my army life throughout the season as well, but now the Ospreys can be my sole focus for the next couple of years.
"Last year was difficult at times as I had to satisfy army commitments, quite rightly so as I'm a soldier first before I'm a rugby player, but this year the Welsh Guards have supported me and told me to just concentrate on the Ospreys and do what I can.
"That's great for me as it allows me to focus solely on rugby without worrying about anything else. I'm extremely grateful to the Ospreys for giving me this opportunity and to the Welsh Guards for getting behind me 100%."