Scotland winger Tommy Seymour breathless at Springboks Test
Last updated on .From the section Rugby Union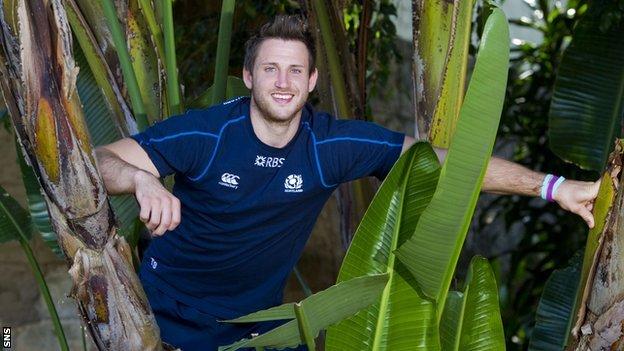 Tommy Seymour admits that the prospect of making his Scotland debut against South Africa takes his breath away.
The 24-year-old Glasgow Warriors winger is one of three new caps in Scott Johnson's starting line-up as the hosts make their own debut in Nelspruit.
"It's the first time the Springboks will play, a sell-out crowd," he said.
"It's something you have to take in and catch your breath a little bit but on the same token not let it overwhelm you."
However, Seymour insists the Scots will not go into the game with an inferiority complex despite
"We are under no illusions whatsoever," he told BBC Scotland. "This is the Springboks, they are a great side and we respect them fully.
"But I'd be lying if I said we don't have a lot of confidence in ourselves.
"After last week, there's a bit of disappointment and we know there are areas we need to improve on if we're going to get a good showing against South Africa.
"It is something everyone is excited to do. There are a big group of boys here who have a lot to prove and massive points to make."
Seymour also has the daunting prospect of replacing Tim Visser, Scotland's main try threat in recent matches, against the Springboks.
In all, coach Scott Johnston has made seven changes from the bruising encounter with Samoa, after which they had 15 players on the treatment table, three of whom were ruled out for the rest of the tour.
"Samoa are a massive, physical team and we've had a few bumps and bruises from that, but that was to be fully expected," said Seymour.
"South Africa are very much along the same lines, a hugely physical team, take a lot of pride in their physical dominance at the breakdown and tackle areas.
"It is a great challenge for us to come up against one of the best sides in the world, set our stall out and do what we can do.
"It doesn't get much bigger than the South Africans in South Africa. That's just the sort of thing you dream of."
South Africa opened the quadrangular tournament by running in five tries in a 44-10 defeat of Italy, so the Scots know the scale of the task ahead.
"The big games, everybody want to play in them and getting to a tournament like this, it's new and it's exciting," added Seymour.
"So I'll be really excited. I can't wait to get out there and see what they throw at us."