Cardiff Blues plastic pitch gets Welsh Rugby Union green light
Last updated on .From the section Rugby Union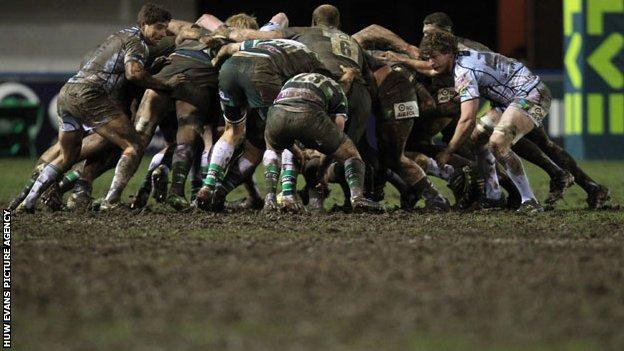 Cardiff Blues have been given the go ahead by the Welsh Rugby Union to install an artificial pitch at the Arms Park.
The Blues board had approved the plan to replace the pitch, which has been an issue since the region returned to the Arms Park in 2012.
Work on the new pitch will begin shortly following WRU approval.
"This is very exciting news for all Cardiff Blues," said Blues chief executive Richard Holland.
"I have no doubt that the new artificial pitch will be a hit with players and supporters alike,"
"The new surface will allow games to go ahead no matter the weather and hopefully enable us to play a more expansive and attractive game for supporters to enjoy.
"There is also the wider community to consider and our aim is to make the pitch available for teams in the Blues region to play and train on."
Celtic Rugby, which administers the Pro12 League, and ERC, the body which runs the Heineken Cup, had both already given the plan their blessing.
Welsh Rugby Union chief executive Roger Lewis said he supported the initiative and confirmed the union had received a grant application from the Blues for financial assistance.
"The focus of the WRU is based upon creating long term sustainable rugby both on and off the field, and our planning is based upon clear, thought through, strategic decisions," Lewis said.
"The Blues have met all of the criteria and IRB regulations, and it is with great pleasure that the WRU endorses this project."
Holland confirmed in May the region had agreed terms with a supplier and had a financial plan in place to cover the estimated £400,000 installation costs.
The Blues took part in the first professional rugby match to be played on Saracens' artificial pitch at Allianz Park in January this year, and the region's management were impressed with the surface.
It was a significant development given the criticism levelled at the Cardiff Arms Park pitch during the 2012-13 season.
The Blues had previously shared the Cardiff City Stadium with the Welsh capital's football team, but returned to rugby's traditional home in the city after poor attendances and pressure from fans.
However, at the start of May, Holland admitted that the ground at the Arms Park was not suitable for modern rugby.
"We have Lions backs and world-class youngsters, but they can't run in mud," he said.
"We are part of the entertainment industry and we can't expect fans to pay £15 or £20 or buy a season ticket."