Wales hope to return to Tokyo for 2019 World Cup final

By Nick Webb
BBC Wales Sport in Tokyo
Last updated on .From the section Rugby Union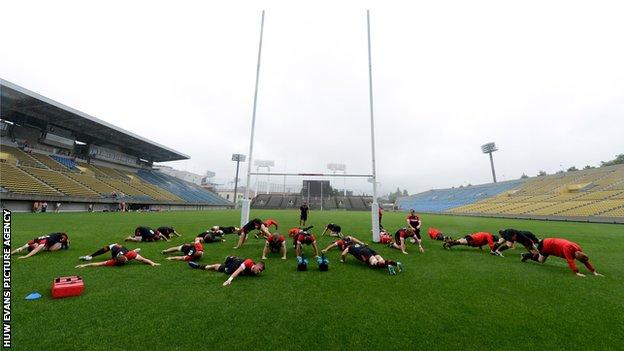 Tokyo's National Stadium is already part of Welsh sporting folklore after Lynn Davies leapt to Olympic golden glory there back in 1964.
Now younger members of the Wales rugby squad will be hoping to be back there in six years' time for the final of the 2019 Rugby World Cup.
The stadium is the centrepiece of ambitious Japanese plans to stage the first tournament finals in Asia, and the first outside the traditional rugby heartlands.
But will they be ready, and will anyone turn up to watch?
National team coach Eddie Jones can see an improving picture in terms of crowds.
"Last week [against Wales in Osaka] was the first time Japan has had a 20,000 plus crowd to a national team game in eight or nine years, a fantastic atmosphere and it shows the growth" he told BBC Wales Sport.
"It's our job to keep playing well, win big games and by 2019 they'll be playing games in the north of Hokkaido to the south, Kyushu, before big crowds."
Jones himself is focussing on the next tournament in England but with an eye on the home-based event, even if he's not still around himself.
"It's another project in 2019 but hopefully 60 per cent of the squad of 2015 will play in 2019," added the former Australia coach and Saracens director of rugby.
His major frustration is the standard of competitive rugby played by his squad away from internationals.
"Our young players get their lessons in Test rugby. Ideally, I'd like 30 Test matches a year if I could get them. As it is, we'll make the top ten but it's going to be tight," Jones added.
In terms of grounds, Japan Rugby 2019 general manager Koji Tokumasu is confident Japan is already well-placed because of construction for the 2002 football World Cup.
But the Tokyo stadium will be one of two or three new facilities.
"We are going to rebuild our National Stadium to make it 80,000 capacity in the middle of Tokyo," Tokumasu said.
"The 2019 World Cup gave the government the motivation to build the stadium.
"We expect to have the 2020 Olympics in Tokyo but regardless of the success of the Olympic bid the government decided to make it ready for 2019" explains Mr Tokumasu.
"Our national character is that when a festival is on, everyone will jump on the festival."
The stadium design is by internationally-renowned architect Zaha Hadid, whose initial plans for the Wales Millennium Centre were controversially rejected.
The Japanese organisers have also been invited to the Millennium Stadium in two years' time to benefit from Welsh experience of hosting the event.
"I'm confident in what they did for the soccer World Cup in 2002 and produced the most wonderful tournament, and I'm sure corporate Japan will get behind the tournament and it will be a fantastic 2019 World Cup," said WRU chairman David Pickering, who is on the board of Rugby World Cup Ltd.
"One of the major reasons [Japan was chosen] was to grow the game. Two thirds of the youth in the world are in that region [Asia], and we are very anxious to grow and foster the game."
Current Wales captain Bradley Davies is also a fan of the Japanese experience.
"When things start to spread over here, they catch on like wildfire" he laughs. "I thought the crowd was awesome down in Osaka last weekend."
But it was Davies' predecessors back in 1975, who inspired Mr Tokumasu's love of rugby.
After watching the first Test in Osaka, he spent two years studying at the then Cardiff College of Education, as well as playing and learning coaching techniques from WRU coaching organiser and general secretary Ray Williams.
"I didn't have enough money, I was going to stay two weeks, then it became two months and eventually two years", he recalls.
"Everything I learnt there gave us the most modern rugby skill and knowledge which I brought back to Japan."
It may be a process dating back decades, but if Koji Tokumasu and his Japanese colleagues pull off a successful first World Cup outside the game's traditional heartlands, the trailblazers from 1975 can claim to have proved some of the inspiration behind it all.