WRU face USA opposition in race to host 2018 World Cup Sevens
Last updated on .From the section Rugby Union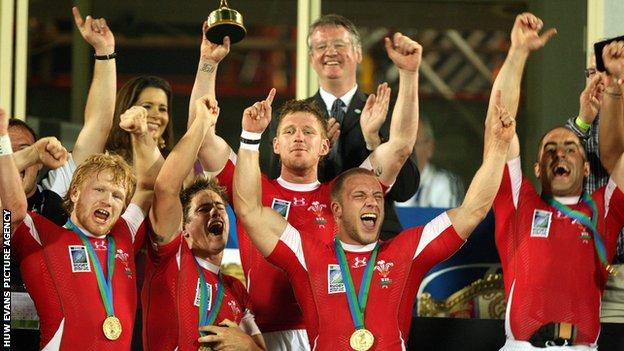 Wales face opposition from the United States in their bid to host the 2018 Rugby World Cup Sevens.
The Welsh Rugby Union wants the event to be staged at Cardiff's Millennium Stadium and another venue, possibly Cardiff City Stadium.
Singapore and Argentina are also interested in hosting the event.
The WRU is working with the Welsh Government and Cardiff City Council on their bid strategy and hopes to submit the bid formally before Christmas 2013.
Wales are Sevens world champions after their 2009 victory in Dubai and will defend their title in Moscow in June.
The 2018 event, like this year's, will include both the men's and women's competitions.
A successful bid would see the tournament return to the United Kingdom for the first time since Scotland staged the inaugural event in 1993.
"Sevens is growing across the world," said WRU chief executive Roger Lewis, who is with Wales' touring party in Japan.
"It will be in the Olympic Games in 2016 and the Olympic Games in 2020, which could well be here in Tokyo.
"We are preparing a bid to bring the Rugby World Cup Sevens to Cardiff in 2018.
"That's five years hence because the IRB [International Rugby Board] have decided to move the Rugby World Cup Sevens to fit between those two Olympic events.
"I've informed the IRB that we're doing this and the IRB have kept me informed of the process they are working to.
"Hopefully over the course of the next six months we'll know if we're successful or not."
USA Rugby director Will Chang, who is a San Francisco Giants baseball team part owner said: "Hosting this tournament will support our goals of developing the game and further its popularity in the United States
"We are looking forward to hearing more about the bid process and will do everything we can to ensure the 2018 Rugby World Cup Sevens will take place on United States soil."