Bath's Rec redevelopment hopes receive a boost
Last updated on .From the section Rugby Union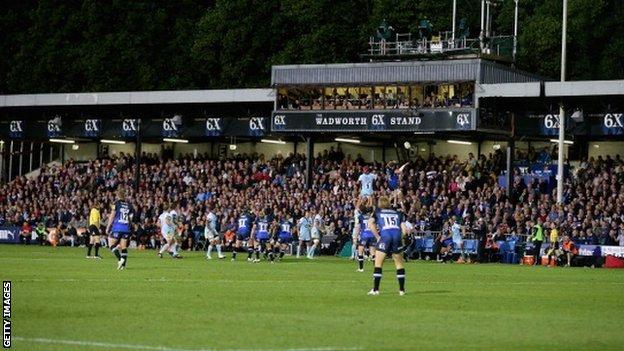 Bath's attempts to redevelop their stadium have been given a boost.
The Charity Commission has granted the Recreation Ground Trust the power to make a decision over the granting of a new lease to the club.
Bath are seeking the lease so they can redevelop the stadium to Premiership Rugby standards.
David Dixon, chair of the trustees, said: "The legal issues surrounding the Rec were difficult and complex, so we are delighted to get to this point."
The Charity Commission took the decision after a trust scheme outlining proposed changes to the ground, which was declared by the High Court to be a charitable trust with the council as sole trustee, received support from 87% of the public who took part in a consultation in November.
Under the scheme, there will be a new trustee body, of at least seven people, which will have the power to grant a new lease to the rugby club on the land it currently occupies, together with some additional land.
Previously, it was the commission itself which had the power to make a decision over the ground's future.
Dixon, a Bath & North East Somerset Council member, said, "As a result of this decision by the Charity Commission, we can now move forwards to achieve the outcomes which hold an overwhelming majority of public support.
"With the trust's finances more secure, we can now plan with more certainty the future of this wonderful recreational facility for the people right in the heart of Bath."
Under the scheme, any new arena would have stands on three sides. A temporary East Stand would be erected for the playing season and removed during the summer.
Replacement land would be received by the trust from the rugby club as compensation for the additional land that it occupied at the Rec.
Neil Robertson, the Charity Commission officer who reviewed the scheme, has ruled any agreement with the rugby club must include a covenant to the effect that the club minimises disruption to local residents and to the users of the trust.
Robertson said: "I consider that the revised scheme has significant advantages to the charity and enables the new trustees to resolve the longstanding problems at The Rec."