Lions 2013: Scrum V's Ross Harries takes a dip with Tom Cox

By Ross Harries
Scrum V presenter
Last updated on .From the section Rugby Union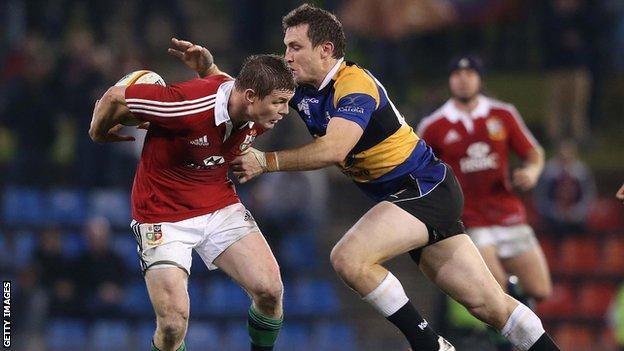 Scrum V's Ross Harries is in Australia following the British and Irish Lions' tour. In his latest tour diary, Ross reports on the challenge which had faced the Combined Country side dominated by semi-professionals and outclassed 0-64 by the Lions on Tuesday.
The only other person brave/foolish enough to indulge in an early morning dip in the Australian winter, was Combined Country winger Tom Cox.
We chatted about the game, and about how simultaneously daunting and exciting it was to face the Lions. Cox himself is a professional rugby player, turning out occasionally for the ACT Brumbies. He was on the Brumbies replacement's bench during Wales 25-15 victory in Canberra on last summer's tour.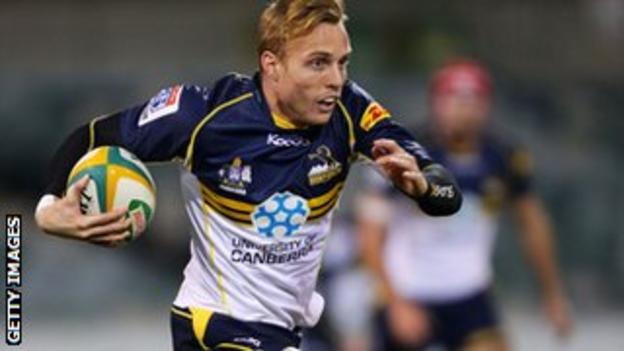 But many of his Combined Country teammates - almost two-thirds of them - are semi professional. There are carpenters, plumbers, and electricians among their ranks, and for most of them, this represents the pinnacle of their careers.
Take local boy Lewie Catt. When he's not involved in his day job as an electrical engineer, he turns out for the Newcastle Wanderers; a team roughly equivalent to those playing in the Welsh Championship. Today he came up against arguably the best player in the world in his position - Brian O'Driscoll.
And in a part of Australia where there's more than a little Welsh influence -- we passed signs for Cardiff and Swansea en route to Hunter Stadium -- the keen eyed among you may have spotted a certain Dylan Evans come off the bench for Combined Country.
The burly prop was born and raised down under, but his father hails from Pontyberem. His grandfather, a former miner and Scarlets player, was watching from West Wales, and would surely have had mixed loyalties when his grandson ran out.
Not so Dylan, who admitted to me afterwards in his broad Aussie accent, that next Saturday in Brisbane, he'd be supporting the Lions (although not in the company of his teammates!).
The Lions were on a hiding to nothing tonight in many respects. Win by a narrow margin, and they'd have been pilloried for not putting an inferior side to the sword, win by a landslide, and the game would have been dismissed as a pointless exercise.
As it was, Warren Gatland appeared more than a little miffed afterwards as the ruthlessness that characterised the Lions in the first half, deserted them in the second. But, as that venerable Lion and tourist Gerald Davies told me earlier this week, this fixture recaptured some of the romance of earlier Lions tours, when the squad spread the rugby gospel further and more widely than the modern era of professionalism allows.
And you sense that rugby could do with a shot in the arm down under. Press coverage of the Lions tour is increasing as the tests approach, but it still comes second to Rugby League and Aussie Rules in the eyes of many. (Australians are understandably a bit muted when you talk to them about cricket at the moment).
And when one of the stewards at the Western Force match turned to a bunch of us in the Press Box and asked (with a straight face) "So, do you think the Lions will play the Wallabies while they're out here?", more than a few eyebrows were raised.
While we're on the subject of knowledge (or lack of it), the award for most modest man on tour goes to Lions manager, Andy Irvine. At a media quiz night last week, one of the posers was "who is the highest Lions points scorer of all time?" The team that Andy Irvine was on plumped for Phil Bennett.
One of the journalists had suggested Irvine, but was overruled by the man himself. The answer? Andy Irvine. As I sit down to pen this latest despatch, my pulse is racing. Not, as you might imagine, because the Test series is drawing ever closer, but because I've just emerged from an ice cold swimming pool in Newcastle.