Scotland: Geoff Cross forced out of tour through injury
Last updated on .From the section Rugby Union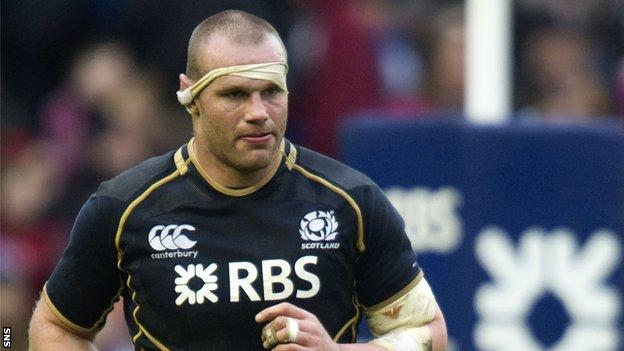 Geoff Cross has become the second player to be sent home injured from Scotland's summer tour of South Africa.
The 30-year-old Edinburgh prop is returning home with a shoulder injury picked up in Saturday's in the quadrangular tournament.
He was one of 15 players requiring treatment after the game in Durban.
that ended the Glasgow Warriors hooker's debut after five minutes of the match.
Forwards coach Jonathan Humphreys admitted that losing so many players to injury was a blow to what the coaches would get out of the tour.
"One of the main aims of coming on this tour was to broaden our base," he told BBC Scotland. "To have a look at a lot of potential international players.
"It's a little bit of adversity at the moment, but that's what we've said we'll do and we'll stick to that.
Scotland have yet to announce any replacements ahead of their next match, against hosts South Africa on Saturday.
However, the team announcement that was due on Tuesday has now been postponed until Thursday and Humphreys indicated any further call-ups could depend on how players recover from Saturday.
"There's a few boys going for scans today, there's a few boys still sore," he said.
"So we're going to have to assess, and by the end of the day we should know where we sit with that, and, if so, then we will call people up."
However, the Scots have been reinforced by the arrival of Glasgow Warriors prop Jon Welsh, who replaces team-mate Ryan Grant - called up to the Lions.
"I was ready to start pre-season with Glasgow when I got the call to come out, so it was a big surprise," he said.
"But I was ready to go out at the drop of a hat, so I packed up and left the next day.
"Hopefully I get the opportunity to play and show what I can do."