Scott Andrews aiming to overtake 'good as gold' prop Adam Jones
Last updated on .From the section Rugby Union25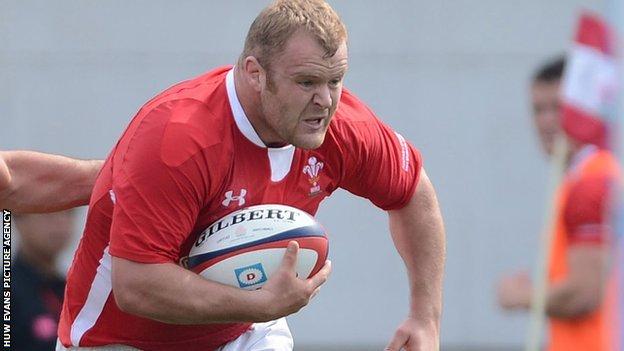 Scott Andrews accepts he has a big hurdle to overcome if he wants to replace Adam Jones as Wales' first-choice tight-head prop.
Ospreys stalwart Jones is favourite to make the British and Irish Lions team for the first Test against Australia on 22 June.
Andrews, 23 is trying to establish himself in the squad on tour in Japan.
"Probably the best tight-head in the world is Welsh, it's going to be pretty hard to oust him," Andrews admitted.
The 88-times capped, 19-stone Jones casts a huge shadow over the rest of the Welsh tight-heads, but Cardiff Blues prop Andrews still hopes to become the first-choice number three for Wales.
Andrews won his seventh cap in in Osaka and is hopeful of being selected for the second Test in Tokyo on Saturday.
He says a second win over Japan would be a fitting end to a season which he admits had a slow start, but has improved the longer it has gone on.
"I'm looking to finish with a bang," he said.
But Andrews admits his goal of becoming Wales' regular tight-head is likely to require a long-term campaign because of Jones' continuing domination of the position.
"When Adam's fit you know he's going to be the number one," said Andrews.
"Then we've got a couple of guys like myself, Craig Mitchell and a few other boys on tour who are all obviously a lot younger.
"So we're all fighting realistically this season next season probably for the number two spot, but obviously we want to push Adam as hard as we can and at some point overtake him."
The 23-year-old Andrews is nine years younger than Jones, so has time on his side.
He also believes he and the other tight-heads in Wales are benefiting from having Jones as a role model and a teacher.
"I sit and watch him when he's playing for the team, but obviously I've been in camp with him and he's good as gold," added Andrews.
"He offers advice if I want it, or he'll just come up to me sometimes and give me little tips as he does with everyone else in fairness to him.
"Obviously I've got to go out and get my own experiences as well which I've done these past few seasons, but you can't have a better guy to learn off.
"Luckily I'm not the same age as him so hopefully in a few years - Adam's 32 now isn't he - if I keep improving I'll hopefully overtake him at some point.
"I don't think he's got any idea of finishing soon the way he's playing, so he could go on for who knows how long - hopefully not too long!"