Lions 2013: Tourists not paranoid, insists Farrell after spy row
Last updated on .From the section Rugby Union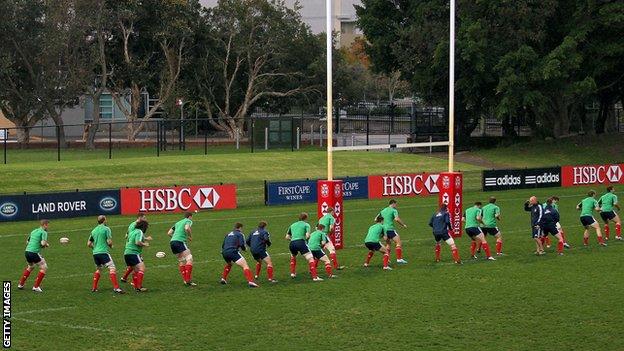 The Lions have dismissed suggestions of paranoia after a row about whether they accused Australia of spying on them.
On Sunday, Lions head coach Warren Gatland was forced to clarify comments he made the day before about Australian surveillance.
But Wallabies boss Robbie Deans accused the tourists of creating a sideshow.
Assistant coach Andy Farrell said: "We are not paranoid. If we are paranoid about getting things right then yes, we are. You've got to get things right."
The Lions, who beat Queensland Reds on Saturday in their toughest game of the tour so far, reportedly have security guards at their training ground.
Earlier this week an observer, who later turned out to be a wedding planner, was required to delete pictures he had taken of a training session in Perth, but Farrell said the Lions were merely being prudent.
"We are leaving nothing to chance. It is important we have everything covered on and off the field," he insisted.
"We are trying to do our best on the field, and off the field we have to make sure that nothing gets in the way of the on-field stuff as well."
On Sunday, Gatland said there were "no allegations of spying" and that the Lions had "no issue" with the Wallabies camp.
"I said that the Australian team were videoing us in our game [against Western Force] from the end of the field, which they are perfectly entitled to do," added the Lions boss.
"We threw some punter out of training who was videoing us, that was all. It's part of preparing properly. I don't get paranoid about people watching training and videoing."
But on Monday, Deans accused the Lions of "creating their own stories".
"It's just a sideshow really," he added. "What the motivation is, you would have to ask Warren. We don't have a security officer, the Lions do. Maybe that's an indication."
Twelve years ago the Lions lost the final Test - and with it the series - after Wallabies second row Justin Harrison stole a crucial late line-out throw.
Graham Henry, head coach in 2001, was convinced that the hosts had cracked the Lions' line-out calls after videoing their training sessions.
And Scott Johnson, now interim Scotland boss but then an assistant coach with Australia, recently said he had pretended to be a member of the groundstaff at one training session.
"I was literally sitting three metres away from everyone writing things down and taking notes," he said.