Scotland not good enough, says Scott Johnson
Last updated on .From the section Rugby Union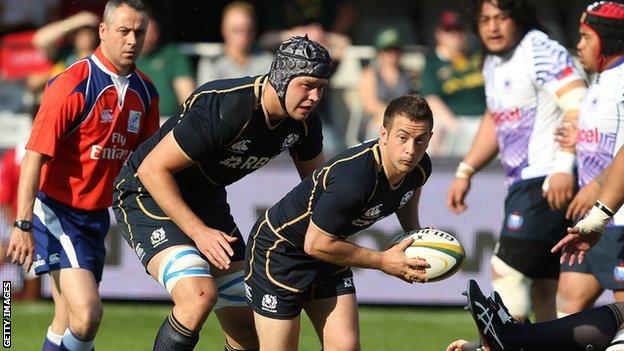 Interim head coach Scott Johnson admits Scotland fell short of expected standards in the 27-17 defeat to Samoa.
"It was a Test match, it was a test of many things, we've just got to stand up and say how we went today wasn't that good," Johnson told BBC Radio Scotland.
"Today we let ourselves down in certain areas of the game."
Scotland, who take on South Africa next weekend, were outscored three tries to one in Durban, as a youthful side struggled to make possession count against powerful opponents.
And Johnson, who will become director of rugby when coach Vern Cotter arrives in 2014, admitted that, not for the first time, the Scots had been second-best physically.
"I'm disappointed in our execution, and defensively we were very, very poor and as a result lost all the contact battles," lamented the Australian.
"The scoreboard usually tells the story, and the story's usually about who won that battle.
"It's about endeavour a little bit - we were just off the clock a little bit. We started the Six Nations against England like this; we just lost the contact. It's an area of the game we've got to acknowledge and we've got to get better at.
"Our first-up tackles we've got to improve on. Their tries came from basic missed tackles and once you do that and they get behind your line, they know how to finish.
"We've got to get better, and the challenge ahead is a pretty daunting one.
"We've got a few days to get it right. We've got plenty of will, but we've got to have an honesty call about where we sit as well."
Full-back Greig Tonks, centre Alex Dunbar and Pat MacArthur all made their debuts, although the hooker lasted just five minutes due to a knee injury.
Two other players, stand-off Tom Heathcote and lock Grant Gilchrist were winning second caps.
"We've got some young guys playing their first Test and we've got to find out where they sit and we understood that," added Johnson.
"That's not a bad thing - acknowledging where you are's a good place to start. We've got to be honest and we won't walk away from that."
Johnson also thought that injuries to McArthur and skipper Kelly Brown had prevented his side from finding a rhythm.
"That did disrupt us too," he said. "We lost a bit of continuity with positional plays.
"That happens, but you'd like to think that the people on the bench are capable people.
"The players won't run away. They'll be disappointed in themselves and they won't shy away from that."