Scotland coach Scott Johnson welcomes Ryan Grant Lions call

By Brian McLauchlin
BBC Scotland in Durban
Last updated on .From the section Rugby Union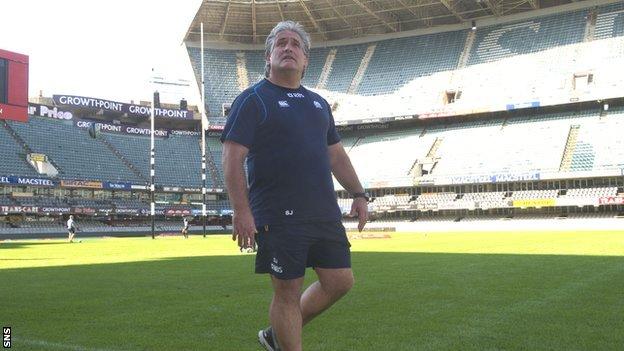 Head coach Scott Johnson welcomed the disruption caused his planning for Scotland's summer tour opener against Samoa.
Alasdair Dickinson will now start Saturday's match as loosehead prop, with Moray Low promoted to the bench.
Johnson said the interruption came "secondary to Ryan's achievement".
He said: "It gives others a chance to show their skills. I haven't seen Dicko play much. It's a good chance for him."
The match against Samoa precedes games against tour hosts South Africa and Italy.
Grant's Lions chance is also good news for his Glasgow Warriors team-mate Jon Welsh, who will meet up with the squad in Nelspruit where the second match of the quadrangular tournament, against South Africa, takes place next Saturday.
After what he called "a horrendous run with injuries", Johnson is pleased that Dickinson now has an immediate chance "to show his wares".
"I keep saying we need greater depth across our positions and competition for places and this is the ideal opportunity for our boys to really compete," added the Australian coach and Scottish Rugby's director of rugby.
"This tournament is really good because we are playing quality sides and it allows us to test a few guys.
"We've got to broaden our base so that we've got greater selection headaches.
"The big thing for us to find a few diamonds in this tour."
Johnson says his main aim is to be able to compete against the top nations in world rugby and he views the tour, and especially the Test against the Springboks, as the chance to do just that.
Of Saturday's opponents Samoa, expected to be played in 30C, Johnson said: "They are ranked where they are because they are a great rugby side.
"We are coming here tomorrow expecting a full-bloodied Test match and that's great."
Lock Al Kellock is expecting "a physical game in reasonably hot conditions".
"We've got to make sure our set piece is good," he told BBC Scotland.
"In any game of rugby, especially at Test level, you've got to make sure the foundations are right.
"Although we'll be playing in fantastic conditions on a great park, we've got to make sure the basics are right first and foremost."
Both Johnson and Kellock are thrilled at Grant's Lions call-up.
"Everybody is delighted for him, he deserves it," said his Glasgow team-mate.
"He works incredibly hard and he has pushed himself up to getting that starting jersey for Glasgow, then for Scotland and I wouldn't bet against him to push and get that starting jersey for the Lions.
"He is that type of guy.
"It has given us all a lift to see one of the guys you have seen work hard all year get that recognition."
Johnson believes Grant's selection "represents us well".
"It's a once-in-a-lifetime opportunity. It has been well-earned and he has been well rewarded for good performances.
"He's got a good work ethic for his position. He's no-nonsense, he scrums well, tackles well, he does all the basics well so there's a lot of boxes ticked.
"I think they might be pleasantly surprised at the gifts that he has. We've known him for a little while and they are just about to find out about them."
Welsh, meanwhile, had been preparing for pre-season training on Monday with Glasgow Warriors and is now hurriedly making plans to journey to Africa.
He said: "Now I've had the call-up I'll need to get my head around flying to South Africa and potentially playing for Scotland.
"It's the ultimate honour to play for your country and represent them so hopefully that can happen when I go out there."