2013 Lions: Welsh chief Lewis wants to discuss profits split
Last updated on .From the section Rugby Union148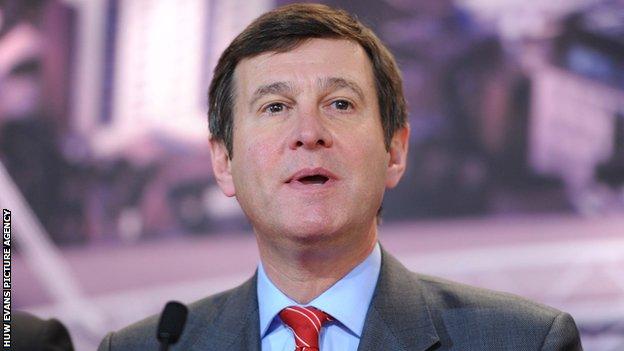 Welsh Rugby Union chief Roger Lewis says the home nations need to look at how the money made from the British and Irish Lions tours is divided up.
The Lions are currently on a tour of Australia, culminating in a three-Test series against the Wallabies.
Lewis claims hosts Australia will bank most of the income generated by the nine games they host.
"This is the subject of much debate at the moment, in terms of the monies generated by the Lions," said Lewis.
"The majority, by a country mile, of the revenue generated goes to the host country, so in this case it's Australia.
"For the home unions, the shareholders of Ireland, England, Scotland and Wales, the numbers are relatively modest.
"You are in the low figures of millions to be shared between the four of us.
"So it is not a significant revenue generator."
Lions tour have become a regular fixture in the international rugby calendar, with a tour every four years to either Australia, New Zealand or South Africa.
The Lions tour of Australia is reportedly expected to generate £40m for the Australian Rugby Union, while the Lions are expected to share a pot of £6m, generated largely by sponsorship.
All the profits made by the Lions are shared by Ireland, England, Scotland and Wales.
Wales have already contributed 15 players to the Lions, as well as coach Warren Gatland and seven backroom staff.
Lewis, who was with Wales on their two-Test tour of Japan before flying to Australia to follow the Lions, admits the tour to the Far East was a loss-maker, but is part of the "ecology" of international rugby.
"With the British and Irish Lions this is something we are gently looking at now," said Lewis.
"The first thing is to understand all of the dynamics around it [a Lions tour], and I know the British and Irish Lions are doing that themselves and understanding what their costs are and the benefits.
"It is something that does need to be looked at now because the game has taken off since the last great Lions win in '97.
"In 2001, 2005 and 2009 [Lions tours]... it was very different from the world we are in now, so the world has moved on and now is the time to look at it afresh."