Lions 2013: Adam Jones Q&A about life on Australia tour
Last updated on .From the section Rugby Union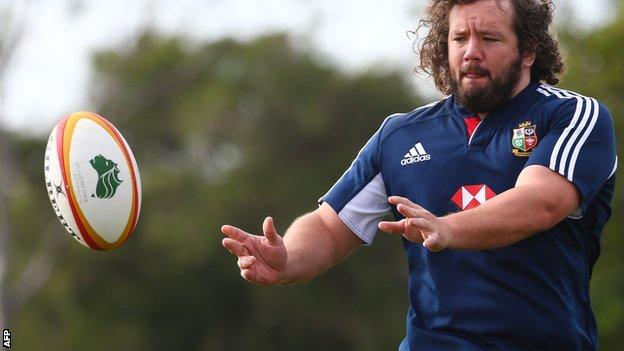 In the third of a regular series of columns, British and Irish Lions prop Adam Jones provides a look behind the scenes of the current tour of Australia by answering questions from readers of the BBC Sport website.
Q: As one of the most experienced tourists this time, what do you and the other older players do to help the younger members of the party, and who was the most help to you in 2009? (from danlpg)
A: To be honest I don't think you have to help them much. The young boys who have come through the academy system are so sure of themselves these days. Most of them have played 20 or 30 Tests anyway so they don't need cajoling or looking after. They take it all in their stride and crack on with it. I was already 28 four years ago but I hung around with Simon Shaw and Phil Vickery, who had both been on different Lions tours before. I found them helpful and followed their lead.
Q: Who has the biggest bench press and squats in the team? Je ne sais quoi
A: I do! No, I wouldn't have a clue to be honest. Someone like Cian Healy would probably be the best at bench pressing and Tom Youngs as well. I don't do squats - dodgy back!
Q: What impact does Cian Healy's type of injury have on the squad, and how easy will it be for Alex Corbisiero to fit straight into the Lions environment? Tony-the-Tiger
A: Everyone is gutted for him. He has been a brilliant tourist. I didn't know him particularly well before, but I shared a room with him in Hong Kong and we got on very well. I was looking forward to playing with him so it's very sad. I've been injured on tour myself in the past, so I know how disappointing it is. The only good thing he is a young man and I'm pretty sure he has another couple of Lions tours left in him. It will be easy enough for Alex coming in. There are no egos here. Ben Youngs was joking about all the Leicester boys staying together, but you can see them having lunch on different tables now. Everyone has broken down the barriers. I guess Alex will have to do some sort of initiation when he gets here. By all accounts he is a good rapper so I wouldn't be surprised if he does a bit of that.
Q: Who is the funniest person on tour? Who has the best banter and who is the dullest?! Pio
A: I find Sean O'Brien quite funny. He is a bit different, just comical in the way he speaks and some of his mannerisms. A lot of the Welsh boys would be used to 'Yanto' (lock Ian Evans) so don't find him funny, but everyone else seems to find him hysterical. Having spent the last eight years with him though, it is the same old rubbish every time. Dullest? One of the tee-total boys probably.
Q: What's the intensity like in training compared to regional and national level? Welsh CPFC
A: There is a massive step-up when you go from your region to Wales and this is probably up another level again. Obviously some of the coaching staff here are with Wales as well and we train in a similar way. 'Gats' (Lions coach Warren Gatland) always wants us to train as close to match intensity as possible. The sessions may only be an hour and some are no more than 50 minutes, but you are working your socks off. That has always been Warren's mantra.
Q: Would you rather be a lion with a kangaroo's head or a kangaroo with a lion's head? Will13
A: A kangaroo with a lion's head. You get all the benefits of being a kangaroo - jumping, bouncing, fleet of foot - and if someone does try to attack you, you can kill them!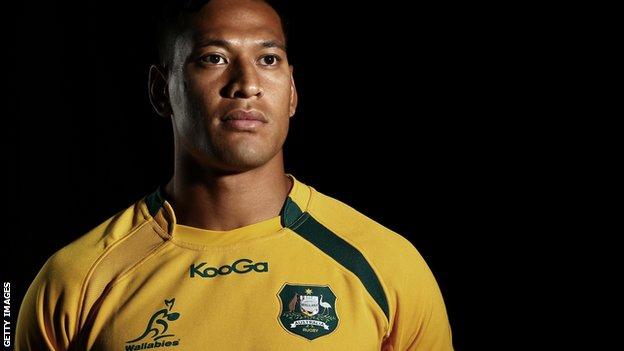 Q: From the Australian team, who do you think is the biggest threat to the Lions? tinygeorge
A: As someone who likes watching quite a bit of Australian rugby league, I remember seeing (full-back/wing) Israel Folau playing for Queensland a few years ago. If he is half as good in union as he was in league, then he is going to be pretty dangerous. We're going to have to watch out for him. And (scrum-half) Will Genia is a given.
Q: Who's been in charge of the music so far? Were you impressed with their choices or are you covering your ears? Joel
A: Jamie Roberts and Gethin Jenkins are in charge. 'Melon' (Jenkins) usually goes for some hardcore dance stuff but in fairness there has been nothing like that so far. I would say it has been an eclectic mix. He is doing all right. Jamie hasn't done much, but they both back themselves when it comes to music.
Q: How much weight did some of the players lose playing against the Barbarians? Impala66
A: I don't know to be honest. But in one training session before the game, I lost two-and-a half kg. I think Richard Hibbard is the only one who stayed the same weight! With Wales and the Lions, the way we play, we are going to be knackered and sweat a lot anyway. So you get given a protein shake and some water after a game anyway to restore some of the fluids you lose.
Q: When was the last time you spoke to Boris Johnson? Kiefer24
A: Ages ago. We spoke the night before the World Cup semi-final in 2011 (London Mayor Johnson hailed Jones as 'Cro-Magnon' man in a reference to the early humans known for their power) and he was kind enough to write a piece for my testimonial brochure. But I think he has got bigger things to do sorting out London after the Olympics. I will expect a phone call if I am lucky enough to get selected for the Test matches!
Q: A lot of people say that you are a definite starter for the first Test. What do you think about that? Does it put more pressure on you to perform or can you take it easier? Hindsight
A: I learnt in 2009 that no-one is a definite starter. They may have a Test side in mind but you just train as hard as you can and hope you impress the coaches with your work-rate and attitude. It is lovely when people say you are going to be picked but, at the end of the day, if 'Gats' doesn't pick you it is pretty rubbish. But these tours don't come around very often and if you came out here expecting to be in the Test team, you are not going to be giving your all. You need to give it 100%.
Q: Who does your hair and do you use a dryer or 'head out the window' style? Crazy questions
A: I don't do my hair. I literally leave it for a month or so then wash and condition it, and then spend an hour getting the knots out! I cut it maybe once a year. I just dry it with a towel and let it drip dry. I think it's a bit too big for any dryer!