Kelly Brown seeks more progress from Scotland
Last updated on .From the section Rugby Union15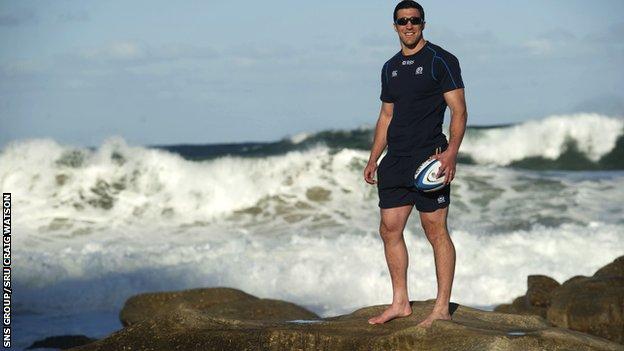 Captain Kelly Brown is determined to prove Scotland can build on their Six Nations showing during the summer tour of South Africa.
The Scots open against Samoa in Durban on Saturday and the Saracens flanker is demanding a strong performance.
"I'm desperate to show that finishing third in the Six Nations was the start of something special," he said.
"During the Six Nations I felt we improved as we went on. It's a case of making sure that we keep on improving."
Brown missed last year's narrow 17-16 win in the humid heat of Apia, but he has faced the Pacific Islanders before.
"I played against them in Aberdeen two years ago when we won with the last kick of the match," he said of the 19-16 win at Pittodrie.
"So we know it is going to be tough and it is going to be tight, but it is the sort of test we really want and we will see, as a side, how much we managed to grow through the Six Nations.
"We have looked at a lot of footage of Samoa and see they are incredibly physical, so we need to go out and impose ourselves on them - we have some big, strong guys as well.
"We need to get stuck in and make sure we stop them on the gain line so that when we have the ball we can play our game."
There may be some extra pressure on Brown and the rest of the team's leaders because interim head coach Scott Johnson has chosen an inexperienced side, including an uncapped trio in the starting XV and another three who could win their debut caps from the bench.
Johnson's selection is the start of the build-up to the World Cup in 2015, but Brown, who celebrates his 31st birthday at King's Park on Saturday, says the players cannot plan that far ahead.
"The long-term goal is more a focus for the coaches," he explained.
"As a player, all you can do is focus on the next game and that is all we are doing. After Saturday we will focus on the Springboks, but right now we are 100 per cent focused on Samoa.
"This time last year I was injured and on the rehab trail, so a lot can change very quickly. As a player I have learned to focus very much week-to-week.
"There is maybe a bit more pressure but I am the same as all of the press and all of the public, I am really excited by these young guys.
"I have been watching them play all season and thought they have been playing well. I cannot wait to see what they can do on the international stage."