Lions 2013: Growing belief hints at greatness
By Bryn Palmer
BBC Sport in Perth
Last updated on .From the section Rugby Union304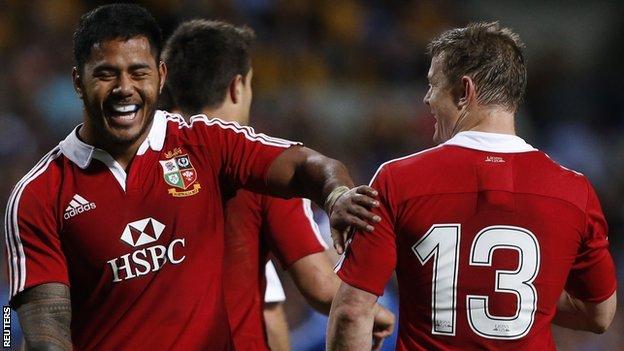 After a frantic few hours of stretchers, X-rays, citings and SOS calls, it was easy to forget the Lions - and rather handsomely too.
OK, judgement will have to be reserved until more meaningful opposition presents itself.
Given Western Force's lack of strength, that may not come until the first Test against the Wallabies in Brisbane on 22 June.
Queensland Reds - with Quade Cooper in harness - should provide a more serious Test in the same city on Saturday. The New South Wales Waratahs may also fire a few shots a week later.
But even at this early stage of their Australian adventure, it is difficult to envisage these Lions losing any matches outside of the Test series, such is the quality and power at their disposal.
Western Force, with only half of their strongest side and several players plucked from club rugby, were game and spirited enough. They exposed a few gaps around the fringes of the Lions defence.
Andy Farrell, responsible for that aspect of the tourists' strategy, seemed positively chipper at having something concrete to get his teeth into in training, despite the concession of two tries.
"It is good for us," he said. "They tested us in some key areas we will be tested in a lot on this tour. It is good to have some pictures to work on now so we can sort it out as early as possible."
There were other areas that still need work. A couple of line-outs went awry. The scrum was not quite as dominant as the one which drove the Barbarians to distraction.
But balanced against that is a growing belief this group may contain an attacking armoury beyond perhaps any previous Lions squad of the professional era.
There is certainly power to burn, in all areas. Whether it is prop Mako Vunipola, lock Alun Wyn Jones, number eight Jamie Heaslip, scrum-half Mike Phillips, centres Jamie Roberts and Manu Tuilagi, or wing George North, the Wallabies know a physical pounding is assured.
"The great thing is that we have so much firepower," said Gatland, before he had to digest the extent of Cian Healy's ankle injury, the and initiate a summons to England's Alex Corbisiero to cover both eventualities.
"We have the players who can get us across the gainline, and if we get quick ball, and our forwards can get us on the front foot too, we have the potential to be really dangerous.
"At times tonight, when we did get that quick quality ball going forward, I thought we looked pretty good."
North was probably disappointed not to get on the scoresheet himself, but he had a hand in several of the nine tries, breaking tackles, making ground on his wing, or coming off it to take short balls from his fly-half or centres.
His deft one-two with Brian O'Driscoll provided the Irish legend's first try, while a smart inside pass from Manu Tuilagi - another power-runner not renowned for his subtler skills - gave him his second.
At the heart of most of the Lions' best moments was Jonny Sexton, who showed exactly why many believe he is the most important player in the tourists' squad.
The fly-half may have been miffed not to be doing the goalkicking, but with Leigh Halfpenny in such splendid form, leaving the Irishman to concentrate on orchestrating the attack, probing for holes, putting runners into space with subtle angles, delicate kicks and varied passes, seemed eminently sensible.
With Tommy Bowe also impressing with his intelligent incursions off the right wing, the Lions' Test backline looks to be taking shape nicely. Who partners O'Driscoll in midfield - Jamie Roberts or Tuilagi - is probably the biggest question Gatland must answer over the next week or so.
The great Irish centre - who on occasion found himself at first receiver, and also switched periodically with Tuilagi to inside centre - declared himself "relatively happy" with his evening's work.
It wasn't just his and Sexton's intelligence, the sense of two great rugby minds at work, that enticed. It was also the combination of brain and brawn elsewhere that should make these Lions eminently watchable.
"The exciting thing is the quality of training every day," O'Driscoll said. "You can see the skill level of the players and you have to be at the top of your game every single day. Probably even internationally [with your country] you don't get that. It is a very unique experience and it is important you embrace that.
"We have a lovely mix with some powerful guys. But for all the things that were said about the brawn of this squad, there were a couple of deft touches out there. I benefited from two of them. I think we have a nice mixture, and plenty to show."