Northampton Saints: Leon Barwell steps down as chairman
Last updated on .From the section Rugby Union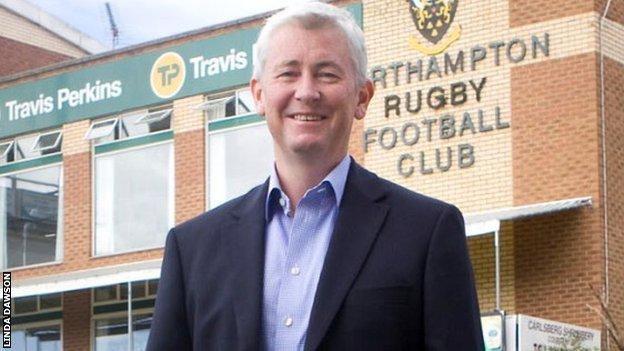 Leon Barwell is stepping down as the chairman of Northampton Saints with immediate effect.
"With six finals in six seasons, and the club continuing its good financial performance, we are heading in the right direction," he said.
"I have greatly enjoyed my time being chairman of this great club, and this decision has not been taken lightly."
Saints have reached Premiership and LV= Cup finals during his time as head of the board, and off the field, achieved their 12th consecutive year in profit.
"A lot of thought has gone into the decision, along with lengthy discussions with my family," said Barwell, who will remain on the board of directors with his father Keith and sister Ella.
"I believe that the time is right for me to step aside, safe in the knowledge that we are on the right track, on and off the pitch.
"Over the past 18 months we have continued to improve and grow as a club. This would not have been possible without the hard work put in by everyone behind the scenes at Franklin's Gardens, and I'd like to thank the staff for their continuing commitment.
"I would also like to thank the Saints supporters, who make the club what it is.
"Home and away they give the team wholehearted backing, and although there have been ups and downs, especially this season, I believe we have built up a good relationship.
"I trust the board in making the right decision as to who the new chairman will be, and will be giving him or her my total support."
The Barwell family will maintain its majority shareholding in Northampton Saints plc, but vice-chairman Tony Hewitt will step up to become acting chairman.
"Leon has been an outstanding chairman of Northampton Saints, and someone who has worked unstintingly to take the club to the next level," said Hewitt.
"We will be taking our time to decide who will be the next chairperson of Northampton Saints, and will make an announcement in due course."