Lions 2013: Cian Healy is cleared of biting opponent
By Bryn Palmer
BBC Sport in Brisbane
Last updated on .From the section Rugby Union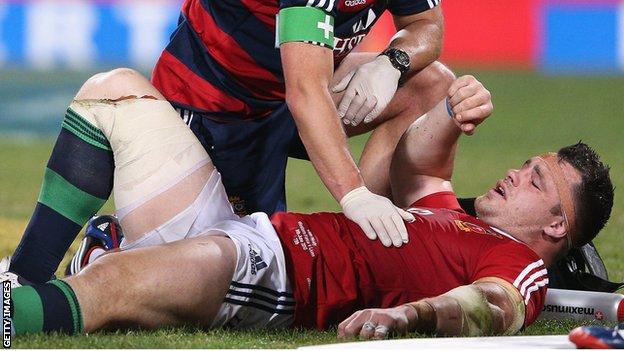 British and Irish Lions prop Cian Healy has been cleared of biting Western Force scrum-half Brett Sheehan.
But judicial officer Nigel Hampton QC found insufficient evidence to support the claims and cleared the Leinster forward at a hearing on Friday.
Healy said: "I always maintained that nothing happened and that I had done nothing illegal."
He added: "The opposition player's arm hit me. It is as simple as that.
"I am very relieved that the hearing has cleared me of such an allegation. I was naturally very disappointed that there was a citing in the first place."
His tour may be over anyway after he suffered suspected ankle ligament damage against Force.
He was due to undergo a scan in Brisbane on Friday.
Lions team manager Andy Irvine said: "We always believed that Cian had done nothing wrong and had not acted maliciously in any way.
"The decision was important to the player's and indeed squad's integrity as the allegation was a serious one."
Irvine accompanied Healy to the disciplinary hearing, which was held in the Lions' team hotel on Friday morning, along with Brian O'Driscoll who was captain against the Force.
Healy was cited on the grounds of an "act contrary to good sportsmanship".
New Zealander Hampton, an independent judicial officer appointed by the Australian Rugby Union, concluded it was possible that during the incident, Sheehan's arm "may have come in contact with Healy's mouth and due to the pressure of the tackle it is likely that unavoidable contact between Healy's mouth and Sheehan's arm occurred".
"There is no conclusive video evidence of the incident and post-match it was not possible to distinguish any discernible bite marks outside of the 'regular' marks usually found following a rugby match," Mr Hampton said in his findings.
"I cannot prove on the balance of probabilities that there was a deliberate bite here and the citing complaint is not upheld."
Sheehan, speaking on Australian television as the players came off at half-time, said: "I don't know if it was an accident or on purpose but there it is. We move on."
Healy, 25, twisted his left leg in the 37th minute of the match and had to be taken off on a stretcher.
The Lions have already called up England prop Alex Corbisiero to act as cover for the rest of the tour.