Eddie Jones has little sympathy for Wales over water breaks
By Nick Webb
BBC Sport Wales in Osaka
Last updated on .From the section Rugby Union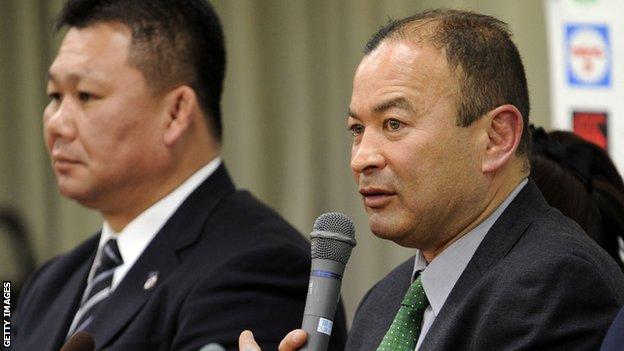 Japan coach Eddie Jones has little sympathy with Welsh requests for water breaks during the first Test in Osaka on Saturday, 8 June.
But Jones claims southern hemisphere teams don't get special consideration when they play in Europe.
"It gets cold in Wales and you never get the chance to warm up your hands," he said.
"I can never remember having heat breaks on Northern Hemisphere tours so it's a bit funny having water breaks.
"This is normal for Osaka in June, we're looking forward to playing the conditions.
"I know they've [Wales] been heating up the barn in their training centre but it's going to be different on Saturday."
Jones believes that beating a top ten country like Wales could have a bigger impact on public interest than the build-up to Japan's hosting of the World Cup in 2019.
"I don't think it's had an effect yet, I think the biggest effect is the national side doing well.
"As everyone in Wales knows, everyone loves rugby when the national side is doing well, and when the national side's not doing well people start to look at Cardiff City and other sports and it's the same here.
"Unless we start to win games and perform creditably against to ten sides in the world, rugby won't go anywhere."
Japanese preparations for Saturday's game here have been far from ideal with defeat at home to Tonga followed by sinking to another reverse in torrential rain in Fiji.
But squad fly-half Kosei Ono revealed the importance of this match to the home players.
"I think we'll see a different mindset this week, it's been a big goal of ours this year, building up to Wales.
"Our big goal is to make the world top ten so our first crack at a top ten team, and at home, we're looking forward to it."
Jones is fed up with what he sees as a Japanese tradition of coming good at the end of games and being happy with a few consolation scores - as happened 12 years ago when Wales last played in Osaka, winning 64-10 after scoring 52 unanswered points before the break.
"What I want to see at the weekend is us to get out there and play our game, and if it's not good enough, so be it."