Wales honours Japan's trailblazer Yoshihiro Sakata
By Nick Webb
BBC Sport Wales in Japan
Last updated on .From the section Rugby Union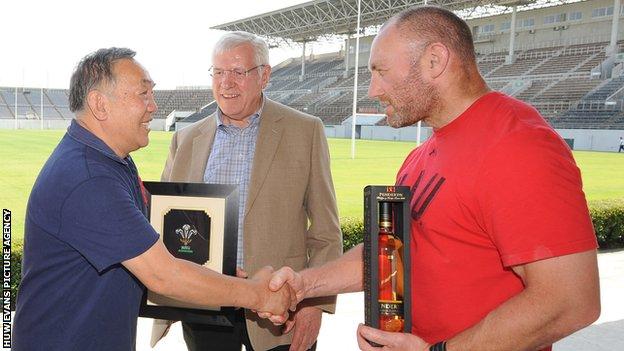 There have been few Japanese superstars in world rugby, but the Wales party this week met a man who blazed a trail for Japan in New Zealand rugby, played against Wales in the first meeting of the countries back in 1973, and is now trying bring the 2019 Rugby World Cup to his home city of Osaka.
Yoshihiro Sakata, nicknamed Demi by the Kiwis for his small stature, was the first Japanese player to be inducted into the International Rugby Board Hall of Fame in 2012.
Forty years after lining up to mark Gerald Davies in that ground-breaking clash against Wales, Sakata was presented with a Welsh Rugby Union shield and a bottle of Welsh whisky by the touring party.
Wales ran out winners by 62-14 at Cardiff Arms Park but the former winger, who was born in 1942, still remembers it as an important step forward for Japanese rugby.
"It was very exciting because in 1973 Japan travelled to a home union for the first time," said Sakata.
"We were beaten by a big score but we enjoyed it very much. I still have Gerald Davies's jersey in my house. It was a good game and Welsh rugby people are very kind."
Sakata went on to grab the attention of Canterbury province, scoring 30 tries in 27 in New Zealand and representing the New Zealand Barbarians.
The flying wing was even named as one of the five World Players of the Year by the New Zealand Rugby Almanac in 1969, and is described as the Gareth Edwards or Barry John of Japanese rugby legend.
"I was a very small winger but used good skill and a good [side]-step to score many tries," he added.
"I think you can still use the in-and-out step but now not so many Japanese players use it, some Welsh players still use it."
His admiration of Shane Williams - scorer of five tries in two games on Wales' last visit here in 2001 - comes as no surprise, therefore.
But he also praises the example of scrum-half Fumiaki Tanaka and hooker Shota Horie, the first Japanese players in the Southern Hemisphere Super 15 tournament this year.
"That is very important and young Japanese players need to go overseas," he said.
"If they did one season, played 20 or 30 games, they would have good experience and better skills when they go back to Japan. Players in many different positions must go overseas then back to make the Japanese team."
Now as president of the local rugby union, Sakata is hoping that Osaka's historic Hanazono Stadium, opened in 1929, will stage games in the 2019 World Cup (the venue selection process has just kicked off here in Japan).
The stadium has a 30,000-seat capacity and is home to top-flight team Kintetsu Liners.
"The Hanazono Stadium is very old and has a good history. I love this ground, the World Cup must come to this ground," he said.
Sakato has already won a sympathetic hearing from WRU group chief executive Roger Lewis - though Welsh support might not extend quite as allowing Japan to add to the memorable moments witnessed at Japan's oldest specialist rugby stadium in Saturday's first Test.