Jeremy Guscott's Lions special Q&A: Farrell, Warburton and more

By Jeremy Guscott
Former England and Lions centre
Last updated on .From the section Rugby Union454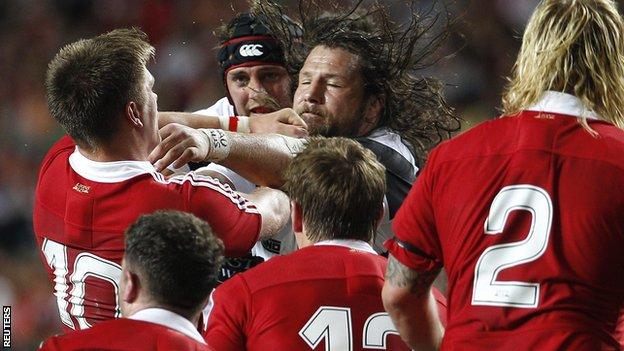 Among the topics Jerry discusses this week are:
- Owen Farrell's Test chances and temperament
- The likelihood of Lions captain Sam Warburton not starting
- How to create the right environment on a Lions tour
- When the Test team will be decided by
Jerry answers questions posted on the website at the start of every week - entries are now closed for this Q&A. This week's answers appear below.
Hi Jerry, do you think Lions boss Warren Gatland still has a genuine dilemma at fly-half? Owen Farrell did not play as well as he would have liked in the win against the Barbarians, but equally Jonathan Sexton would have been unhappy with his goal kicking when he came on as a replacement.
If the Tests are going to be decided by fine margins then is Farrell ahead of Sexton, given his accuracy from the tee? chris1984
Hi Chris, if Leigh Halfpenny is selected as the full-back then he would be first choice to kick goals given his superior kick success rate.
You have to remember it wasn't easy for Sexton to come on and slot straight in as if nothing had changed from when he plays for Ireland. Farrell clearly needs a better performance, one showing maturity and good leadership in this vital position.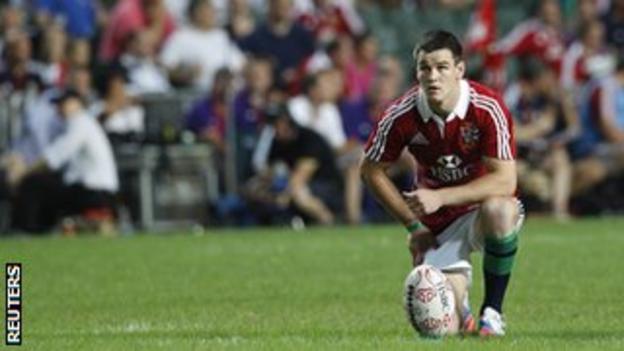 Hi Jerry, Farrell had a steady if unspectacular game. People keep saying what a good temperament he has but he's yet to convince in big, high-pressure games and seems to be easy to wind up. Surely the Aussies will see this and will target him? Dom
Hi Dom, no doubt if there is an opportunity to niggle Farrell the Aussie Super XV teams will give him the odd dig or pull his shirt off the ball, and we will all be interested to see how he reacts. I would hope for the best, expecting the worst.
Jerry, do you think with the performance from Farrell that Jonny Wilkinson should be expecting a phone call sometime soon? I think the Aussies will be easily able to wind him up and he could become a liability. Not something you want when trying to close out a game. CharlieAdamsTeeth
Hi CharlieAdamsTeeth, until we hear Wilkinson definitely isn't coming, I'm expecting him to join the tour. I would like to think that after the incident in the game against the Baa-Baas, when he was involved in a dust-up with Schalk Brits, that Farrell will be able to control his emotions. It can be hard to do, but necessary if he is to play at the top level.
Hi Jerry, just wondering what your thoughts are on Sam Warburton being captain and whether this guarantees him a Test match start? In probably the most competitive area of the team I personally can't see Warburton as a starter either at seven (Justin Tipuric) or six (take your pick from Dan Lydiate, Tom Croft or Sean O'Brien!).
I know much can change in next few matches but can you see a scenario where Warburton is left out? Rawsheen
Hi Rawsheen, if Warburton is fit I really can't see him being left out of the team, it would make a mockery of the original selection. In my opinion a fit Warburton is still as good as the best in the world at seven, he is very competitive.
Hi Jerry, surprised to see that Wales wing George North came on in the centres during the Lions' big win over the Barbarians. Do you think that he may be an option at centre for the Test matches? julian_c8439685983
Hi Julian, given the options and class available in midfield to select from I would be surprised if North got selected there straight off the bat for the first Test.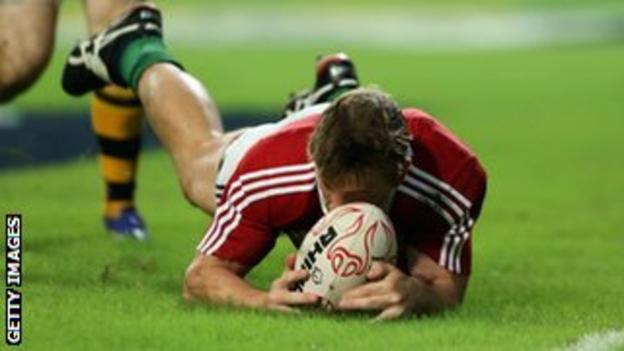 Hi Jerry, as an ex-centre could you sum up the performance of Jonathan Davies against the Barbarians and evaluate his chance of making a start in a Test side in front of the likes of Brian O'Driscoll, Manu Tuilagi, Jamie Roberts etc? RugbyLad15
Hi RugbyLad15, so far so good for JD, he's put his marker down. There were some great touches, he tidied up well, off-loaded in the tackle, both his kicking and tackling were good and he scored a try - it couldn't have gone much better for him.
Davies was helped by his centre partner Jamie Roberts, who also put his own marker down with an impressively powerful performance. After that display from Davies he's going to be hard to ignore, but BOD and Manu are up next on Wednesday to counter punch and put down their markers.
Warren Gatland is going to blood players over time. At what point in the Lions Tour calendar do you think that he will choose his first Test selection, and what emphasis will be placed on attack (rather than defence) when making the selection? Gaz
Hi Gaz, my feeling is that the Test team has got to be as fresh as they can, given they will be playing three Test matches on three consecutive weekends. There isn't much time to look at every combination so the team has to come together quickly.
I would think the game against the Queensland Reds (8 June) or New South Wales (15 June) will contain a good number of Test players. You will have a couple of players facing the Brumbies on the Tuesday before the first Test on 22 June who still have a chance to make the Test team, but that's about it.
Regarding style, look at the two teams Gatland has coached, Wasps and Wales. I believe his emphasis will be to score tries, defence takes care of itself.
Obviously it's a bit premature to say for definite, but who in your opinion will be the starting centres will come the Australia Tests? jwat
Hi, as you says it's far too early to say. Roberts and Davies put on a great show against the Baa-Baas but let's wait to see what Brian O'Driscoll and Manu Tuilagi can produce against tougher opposition than we saw on Saturday.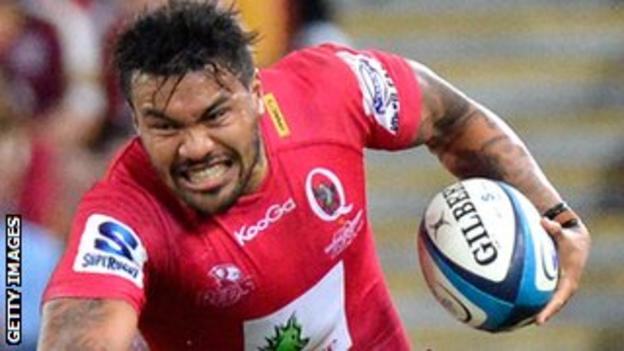 Hi Jerry, what are your thoughts on the increasing Aussie injury list? Digby Ioane, the main threat in the backline, is out and so too David Pocock, the main threat at the breakdown. Surely Australia don't have enough strength in depth to compete with the Lions? rugby10
Hi rugby10, the Aussies arrived in London last autumn full of injuries and still managed to beat England at Twickenham. You can never write them off.
Hi Jerry, legendary ex-Lions boss Ian McGeechan recently said the Lions would beat the Aussies in the upcoming series and listed the following points about securing a victory: Create the right environment, target the Test matches, know your opposition, include the "Test-match animals".
Anything you think he left out from that list? Plus who were the "Test match animals" you most respected both playing with and against? schoolies
Hi schoolies, creating the right environment is the vital element - the rest falls into place if you've created that for the squad. You've got to be fair to all players and give them the opportunity to play themselves into the Test team, so inclusion for all is vital.
You have to immediately deal with any sound or sign of bitterness by any squad member because that is toxic for the rest of the squad.
As for the last part of your question, it's not a question of who I respected most, because everyone who pulled on the Lions Test jersey earned the right to wear it - sometimes they lost it but first up they deserved it. I respected everyone I played against.
Hi Jerry, with Ben Foden playing so well at the moment and scoring two of the England tries in the win against the Consur XV what do you think the chances are of him staying at full-back for England? Personally I don't understand why he didn't play there ahead of Alex Goode in the Six Nations. Thanks. GRR
Hi GRR, if England decide to play a more attacking game in the Tests in the autumn and Foden continues to play well, he should be in with a good chance - along with Mike Brown - of getting ahead of Goode.
However, if they play the unambitious, defensive, territory-based game, they will stick with Goode because of his kicking.