Ex-Borders pro hails Vern Cotter signing as a 'coup'

By Jonathan Sutherland
BBC Scotland
Last updated on .From the section Rugby Union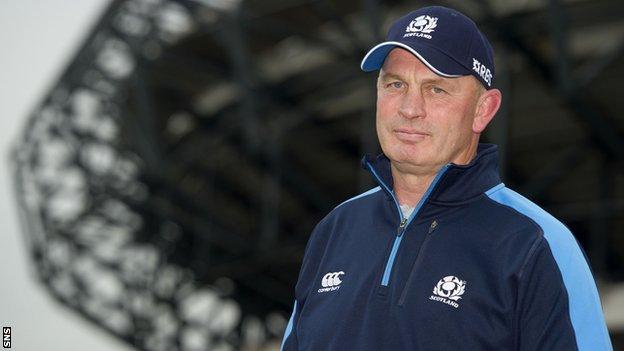 A Scottish colleague of Vern Cotter, Scotland's head coach-in-waiting, believes the New Zealander's new employers have made a "shrewd" choice.
Neil McIlroy, team manager at Cotter's current employer, French Top 14 side Clermont Auvergne, told BBC Scotland that it will be worth waiting for the Kiwi to start in June 2014.
"He's an intelligent coach," said former Borders pro McIlroy.
"If you want the best person, sometimes you have to be flexible and wait."
The hierarchy at Murrayfield have attracted some criticism for not securing the services of Cotter before his contract with Clermont expires next summer.
However, Scottish Rugby says it is delighted that Cotter will be the man to replace Scott Johnson, who is now director of rugby.
Its chief executive Mark Dodson told BBC Scotland last week: "We always knew that Vern wasn't available until 2014, but we felt he was the best man for the job."
Dodson's optimism is matched by McIlroy, who played for Nice and Beziers in France after the Borders side folded. As team manager at Clermont, McIlroy is now involved with "everything that makes the professional team function".
"I think it's a shrewd choice, a wise choice," said the Scot.
"To have Scott Johnson as director of rugby and to have Vern Cotter as national team coach is quite a coup for Scottish rugby.
"He's originally a Kiwi farmer but that doesn't mean to say he is just there for the grunt and groan of the forward play.
"He came to us at Clermont about seven or eight years ago when we were the sleeping giant of French rugby, with some well-known players but a team that couldn't string things together.
"He sorted things out on and off the field.
"He's a very driven man, he knows which direction he wants to go in and he'll make sure that's he's got people round about him that want to go in that direction with him."
McIlroy did not wish to be drawn on whether the Clermont coach might be tempted to move to Murrayfield before next summer, describing it as "quite a sensitive and delicate subject".
However, he played down any criticism of Cotter's new employers.
"Leading head coaches in world rugby are generally under contract and for a good reason," he said.
"Scotland have obviously assessed the situation and they think they have people in place who can deal with Scottish team matters in that interim period and Vern will be involved as a consultant until he can join up with the national squad on a full-time basis.
"As it stands, Vern is under contract with us until next year and it has been well documented that he intends to keep in touch with the Scotland set-up during that period.
"But his commitment, as far as I'm aware, is with us until the end of next season."