London Welsh exploring three Oxford venues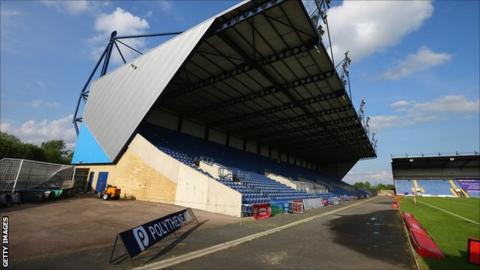 London Welsh chairman Bleddyn Phillips says they have three ground options available to them in the Oxford area.
Welsh played at Oxford United's Kassam Stadium last season, moving from their home in Old Deer Park, west London.
However, following their relegation, the club have decided to stay in Oxford rather than return to the capital.
"There are at least two or three opportunities available to us in terms of ground location in the region for next season," said Phillips.
He added that they expect to make a final decision "within the next week to 10 days".
He added they have a responsibility "to ensure we have a solid and commercially viable 'home' ground from which we can build upon and develop in the short, medium and long term".
Phillips continued: "While some might understandably contend that we should now return to our long established home at Old Deer Park, there appears to be a much larger element among our supporter base who favour building upon and enhancing our increased and hugely committed following in the Oxford area, drawing not only from the local communities but also the long-standing and incredibly loyal fans from Old Deer Park.
"This of course is also closely linked with the need to be commercially viable at the top flight of club rugby and the level of attendance for 'home' games is likely to be demonstrably higher if we continue to play in the Oxford area and thereby strengthen our following and support base - coupled of course with our traditional strength and support from Old Deer Park, who have travelled so regularly and faithfully along the M40 in recent months."
Welsh had mooted the idea of launching a joint bid with Oxford United for the Kassam Stadium, but Phillips hinted their immediate future may not lay there.
He said: "There have been a number of discussions with several grounds and local clubs and we are very close to finalising what we trust will be an optimum solution for the club in both financial terms as well as the level of facilities available next season.
"Ease of access, public transport and parking are of course all elements which likewise need to be taken into account and we very much hope and expect a decision to be made within the next week to 10 days.
"This of course is in addition to returning to Old Deer Park, which remains very much an option, but which is perhaps less consistent with an avowed intent to remain a strongly competitive Championship/Premiership club."
Meanwhile, Welsh have announced that eight new players will be joining its squad next season.
Arriving at the club are Tom May (Northampton Saints), Andrew Titterrell (Edinburgh), Richard Thorpe (Leicester Tigers), Pete Browne (Harlequins), Ben Pienaar (Moseley), Carl Kirwan (Rotherham Titans), Rhys Crane (Nottingham) and Ben West (Cinderford).