Tyson Keats: London Welsh face new ineligibility complaint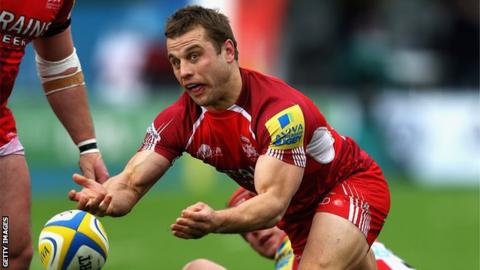 London Welsh face further punishment after European Rugby Cup announced a misconduct complaint against the club over the registration of Tyson Keats.
The Exiles were handed a five-point penalty by the Rugby Football Union in March for forging documents to negate the scrum-half's visa issues.
New Zealander Keats, 31, also appeared once in the Amlin Challenge Cup, during the 68-19 defeat by Stade Francais.
"A misconduct complaint has been made against London Welsh," said the ERC.
The statement continued: "The complaint is that London Welsh may have committed one or more acts of misconduct when the club's then team manager, Mike Scott, registered Keats for the tournament."
Scott, the former London Welsh team manager, was handed a life ban from rugby over his role in the matter after he admitted supplying false information regarding Keats, including a forged passport, to the RFU.
Keats applied for an ancestry visa when he arrived in the UK in July 2012 as his maternal grandfather was born in England.
But his application was apparently rejected and then Scott falsified a player registration form by stating Keats was English.
Following the deduction, Welsh finished bottom of the Premiership and Newcastle's Championship triumph effectively confirmed their relegation.
Welsh were also fined £15,000, while a further suspended five-point penalty was later removed after an appeal.
The new complaint, which is being dealt with on the basis of written submissions, will be considered by an independent disciplinary committee chaired by Antony Davies of England.