England heading in wrong direction on road to Rio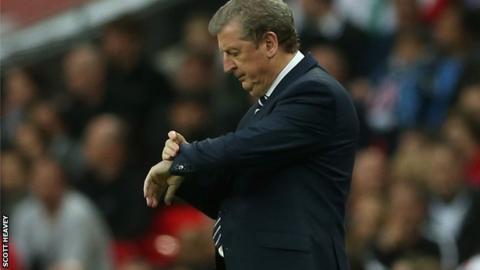 England made the long journey to Brazil just hours after a dismal Wembley draw with the Republic of Ireland; whether they will make the same trip in 12 months' time is a matter for debate.
Sunday's friendly in the great football temple of the Maracana marks England's first trip to Rio since they won 2-0 in 1984 and John Barnes announced himself on the world stage with that famous solo goal.
How Roy Hodgson's England cry out for such moments of inspiration now. And how the manager must discover them from somewhere if the nagging questions about England's ability to qualify for next summer's World Cup carnival are to be erased from doubting minds.
The meeting with Brazil is one of the key dates in the Football Association's 150th anniversary but there was no sense of celebration or air of optimism in a sterile 1-1 stalemate against Giovanni Trapattoni's stubborn Ireland side.
Hodgson dressed up an ordinary performance in finery. No complaints and - the time-honoured managerial refuge - "lots of positives".
Many would take issue with that statement as England, admittedly shorn of some fairly crucial players, lacked creativity and inspiration despite dominating possession in the second half.
The reality was that this was desperately uninspiring and dull.
It is hard to imagine viewings of this display causing concerns in Brazil between now and Sunday, or among any of the world's elite group between now and next summer. England's new kit may be a replica of those worn by the greatest German sides but there the comparison stops.
The sense that this England, and the blame for this cannot be entirely laid at Hodgson's door, increasingly represents a second-tier football power is strengthened with performances such as this.
Yes it was a friendly, but England have made a habit of drawing games and it is a habit they must change. Quickly.
Hodgson's hopes of World Cup qualification set great store by the fact that three of their last four games are at Wembley, with the toughest of all away to Ukraine.
And yet a failure to beat a determined, but hardly threatening, Republic team ranked 39th in the world does not offer any guarantee of victory against Montenegro and Poland in October.
In Hodgson's defence, he was without the midfield creation of Steven Gerrard and Jack Wilshere, while a bright and breezy Daniel Sturridge did not survive the first half after sustaining an ankle injury.
Frank Lampard remained the old reliable with his 29th England goal but, at times, Wayne Rooney looked like he was running on a flat battery. There was no shortage of effort but the spark to create an ignition was not quite there.
Former England captain Gary Lineker pulled no punches with his tactical assessment of Hodgson's approach. Twitter only allows a short message but he made it a very powerful one with the words: "Don't like England playing this system. So easy to play against. Brazil will thrash us if we line up this way. Predictable and dated.
"Even though results haven't been great, felt tactically England were maturing, but this is a step back to the dark ages of two lines of four.
"It's not about playing in straight lines. It's about playing between the lines. Depth gives flexibility, passing alternatives, creativity."
The reference to "the dark ages" will cut through Hodgson, who likes to think of himself as modern in coaching terms, but Lineker's words carry weight and merit - and he will have taken no pleasure in saying them.
Hodgson likened England's system to that used by Borussia Dortmund - the system, rather than the style or quality it should be stressed.
Perhaps Hodgson's timing was awry and he needed a little more of a delay in this comparison, it coming so soon after the outstanding German side had played their full part, even in defeat, in a magnificent Champions League final against Bayern Munich at Wembley.
England's manager, correctly, states that these games - and indeed Sunday's friendly in Rio - are preparation for the main event of the World Cup qualifiers. The problems come with what we are learning about England, namely that it is by no means a given they will reach Brazil next summer.
Even at full strength, England look a limited team. Shorn of key players, they inevitably look worse.
The sight and rich history of the new Maracana stadium should give an instant lift to England's players and make them determined to come back for more in 12 months.
To achieve that, they must do a lot better than this.